How the pandemic is bringing the small manufacturing revolution to the development sector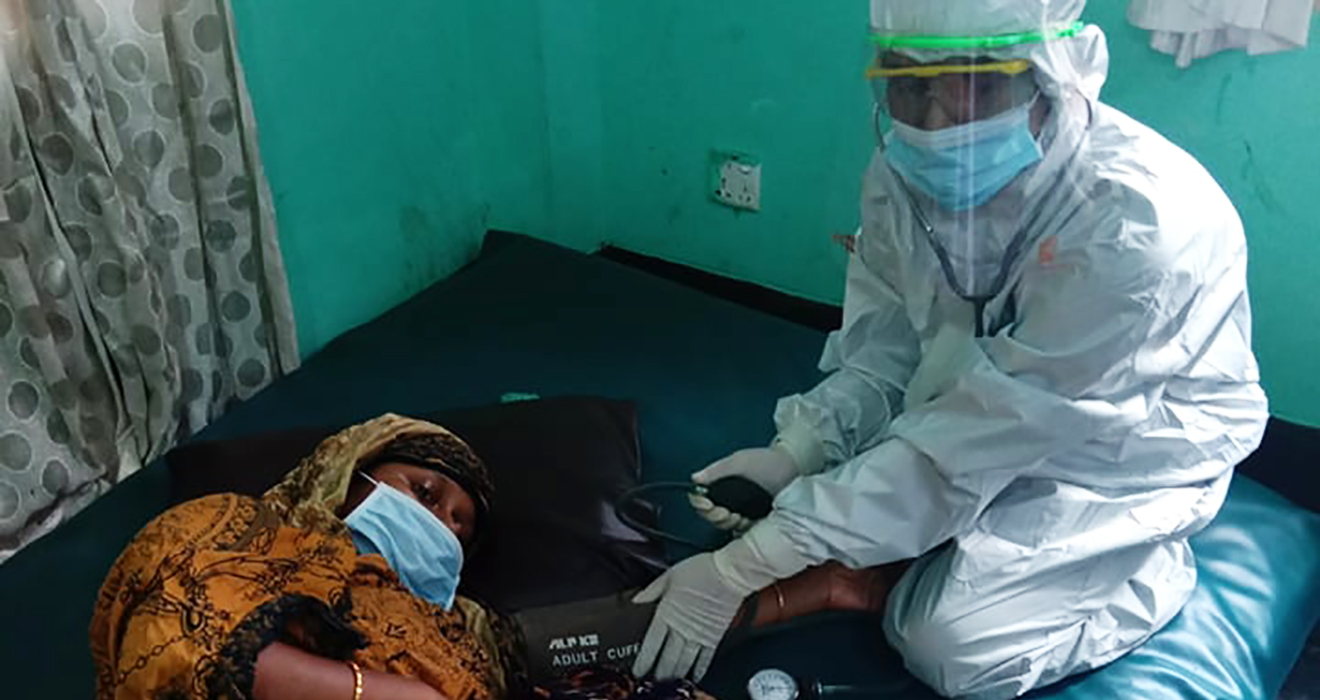 By Kuldeep Bandhu Aryal and Nishat Tasnim
This piece was originally published here in NextBillion. It has been reposted below.
Rina is one of the nearly 50,000 community health workers trained by BRAC, a global development organization based in Bangladesh. She serves as many as 20,000 people in her community. With COVID-19 raging across the heartland of Bangladesh, there's a lot of misinformation spreading. She provides people with health advice and primary health services, and acts as a center of referral to hospitals and health complexes. She has fear of contracting COVID-19, but it's less of a personal fear and more of a concern for her own family members and the community she serves. Rina knows that without her, the situation will be much worse on the ground for these people. So she focuses on equipping herself with whatever personal protective equipment (PPE) is available, and continues with her work.
The need to protect frontline healthcare workers like Rina has become particularly clear, despite the "fog of war" that has clouded many decisions since the early days of the pandemic. When COVID-19 first struck, the global health sector did not know what we were up against. Yet it was obvious that essential workers had to be on the frontlines, and in Bangladesh, as in many countries, it soon became apparent that there wasn't enough PPE to go around. Almost all of the country's PPE was made abroad, especially equipment like face shields and goggles. This has resulted in price gouging and acute scarcity: To take one example, at the height of the shortage BRAC was paying US $12 for goggles that cost $2 before the pandemic.
And of course, this hasn't happened only with face shields and goggles, but also with every other product needed during the crisis, from ventilator parts to test swabs. Bangladesh is still struggling to meet the demand for these items, as are countries across the developing (and developed) world.
Dealing with medical supply chain disruptions
Early on in the crisis, the pandemic caused severe disruptions in the global medical supply chain, leading the net exporters of PPE to become net importers practically overnight. Though increasing demand had made this equipment pricier than ever, many governments and organizations had enough money to pay for it. But they had no way of sourcing these products due to acute shortages, and over-dependence on the international instant order and express delivery supply chain system. And whatever they could source did not meet traditional quality standards.
In developing economies, these challenges around supply chains become complicated very quickly and in unexpected ways. Obstacles in these markets can include "sudden and unpredictable spikes in demand, difficult to access locations, disruptions due to conflict or disasters, as well as normal supply chain problems of leakage, spoilage, and other losses." This means that simple procurement orders for items like medical disposables can take weeks and sometimes months to fulfil, severely impeding humanitarian operations.
Leveraging frugal innovation and maker spaces
One way of addressing this issue in developing countries is to look for frugal innovations which can be scaled. In South Asian contexts like Bangladesh, the concept of frugal innovation is known as "Jugaad," a Hindi/Bhojpuri term which means "to make use of what you already have (because you don't have access to external resources)." Under normal circumstances, Jugaad is generally considered an alternative coping and adaptation mechanism for people with an acute lack of resources. But BRAC has tapped into this approach to generate local solutions which are affordable as well – and the model, developed through our Social Innovation Lab, has played an important role in our COVID-19 response.
When the pandemic started, BRAC realized that we could not depend upon traditional PPE procurement processes, which were designed to operate in situations where the procuring organization has adequate resources and demand doesn't exceed supply. We had to find new ways of working with materials that were locally available, and to consider alternative manufacturing partners and processes based on the kind of machinery and technical capacity available inside the country. 
But manufacturing was not the only piece of the puzzle. Local designs were also needed, because there were patent and copyright issues that prevented us from using local manufacturers to produce many internationally marketed products. Even simple products like face shields are patented, so we had to use open-source designs. But these designs also had to be adjusted based on local manufacturing capabilities and material availability, which required redesigns so extensive that it was almost like creating a new product from scratch. In addition, the strict lockdowns that were imposed across Bangladesh resulted in a massive logistical challenge. For example, while this initiative was underway, some simple machinery parts were not available in Dhaka, the capital city where BRAC is based, and had to be sourced from a small mechanical shop in Pabna, which is about 153 kilometers away.
This provided a unique opportunity for spaces like fab labs and maker spaces to jump into action. Not only were they capable of making original designs or "hacking" existing designs to suit local need, they also had some form of small- to mid-scale production capacity. In addition, they were tied into the international open source product design community and could tap into the global movement to create local PPE solutions, which started through the Facebook group "Open Source COVID-19 Medical Supplies" and Slack channels like "Project Open Air."
These makers focused on rapid prototyping and using human-centered design principles to create solutions, and their work helped push the maker movement toward demand-driven frugal innovation. They were able to make their own designs, develop rapid prototypes and get prompt user feedback, then share these designs with other makers in countries like Bangladesh. To take one example, a designer stuck in quarantine in Bosnia shared a digital model for a face shield with BRAC, and the prototype of that face shield was made at Fab Lab Sher-E-Bangla Agriculture University, a maker space in Dhaka. The face shield was tested by BRAC staff and their feedback led to subsequent design iterations, and BRAC community health workers are now using it in the field.
Our maker space partners initially used 3D printers to make a modest number of products. But as demand increased among our health workers, faster means of production were needed, so the maker spaces started using computer numerical control (CNC) machines and laser cutting, adjusting the designs so they could fit into these two-dimensional machines. This is the true essence of frugal innovation at work. But it also created a new series of challenges, from material sourcing to design changes. It also meant that BRAC had to be involved in rapid prototyping and reiteration to adopt this new manufacturing process. This brought BRAC further into the innovation process, and we gradually became an integral actor in the digital fabrication of PPE to support Bangladesh's COVID-19 response.
Along with leveraging our extensive network on the ground to distribute frugal innovations for this humanitarian response, BRAC also advocated to the government of Bangladesh that fab labs employees be designated as essential workers during the pandemic. This was a major milestone for the maker movement. We also supported local maker spaces by purchasing the raw materials they'd need for manufacturing and product packaging. This was a very rare move from a development sector organization, as BRAC went out of our way to accommodate the challenges on the ground and provide the flexibility that fab labs needed to innovate and experiment.
Why the humanitarian sector should embrace the maker movement
To make the best use of design and manufacturing in any emergency response, ecosystem players, NGOs, development partners and government agencies need to have strategies to integrate and accommodate maker spaces as platforms for rapid responses to humanitarian crises. Without proper policy buy-in and strategic support, agile maker spaces like fab labs can only reach a limited number of people. That's why BRAC has worked to mainstream our partnership with fab labs and other maker spaces as part of our emergency response mechanism. To that end, we have established agreements with maker spaces to provide dedicated funding for their capacity building and internal teams, while boosting our efforts to integrate the products they can manufacture into BRAC's general procurement and logistics functions.
We're not the only ones moving in this direction. In Bangladesh, the World Bank has funded seven university-based fab labs to foster the growth of digital fabrication and manufacturing – an effort that started even before the pandemic. And DFID's Frontier Technologies Hub, in collaboration with the Royal Academy of Engineering, is building a technology and innovation pipeline for local production and local solutions for their #COVIDaction projects. Globally, innovators are being encouraged to develop novel approaches to shorten supply chains using local raw materials, and to pivot domestic manufacturing to meet local needs. One of the biggest examples of this momentum in South Asia involved Maker's Asylum in India. Their M-19 initiative started with the goal of providing 1,000 M-19 face shields to the country's frontline workers. However, in 49 days they were able to activate maker spaces in 42 cities, towns and villages through their open source design, and produce over 1 million M-19 face shields.
These successes show the power of open source design and collective movement in times of need. To advance these efforts, BRAC Bangladesh has received the Frontier Technologies Hub grant, which will support our work testing out digitally fabricated PPE. We will assess the cumulative demand for this PPE in BRAC operation areas, and the supply will be met through collaboration between BRAC and university fab labs.
However, there is a common misconception about maker spaces and digital fabrication. It is not just about 3D printing: There are other types of equipment and technologies involved, from CNC machines and laser cutting, to injection molding, printed circuit board milling and other fabrication technologies. If these innovations are harnessed, it could help mainstream niche efforts like BRAC's and bring the maker culture to the broader humanitarian sector.
Digital manufacturing has taken a big jump since COVID-19 started. If the humanitarian sector takes a coordinated approach toward maker spaces, working with government and non-government agencies and international development partners, we can further bolster this massive small manufacturing revolution.
Kuldeep Bandhu Aryal is a Social Innovation Fellow and Nishat Tasnim is Deputy Manager, Innovation Ecosystems and Partnership at BRAC's Social Innovation Lab.
Discover Ritu's story
After being married at a young age, Ritu had no source of income. She purchased a cow and sold milk at the local market, but her earnings were modest, and her family was trapped in a cycle of poverty. Now, as a client of BRAC Dairy, Ritu has a consistent place to sell her milk for a fair price, and she has grown her business into a thriving dairy farm with over 25 cattle.
Innovation is often associated with the newest technology or the latest app. Often, however, it can be seen in the fresh application of a tried-and-true strategy in a new context.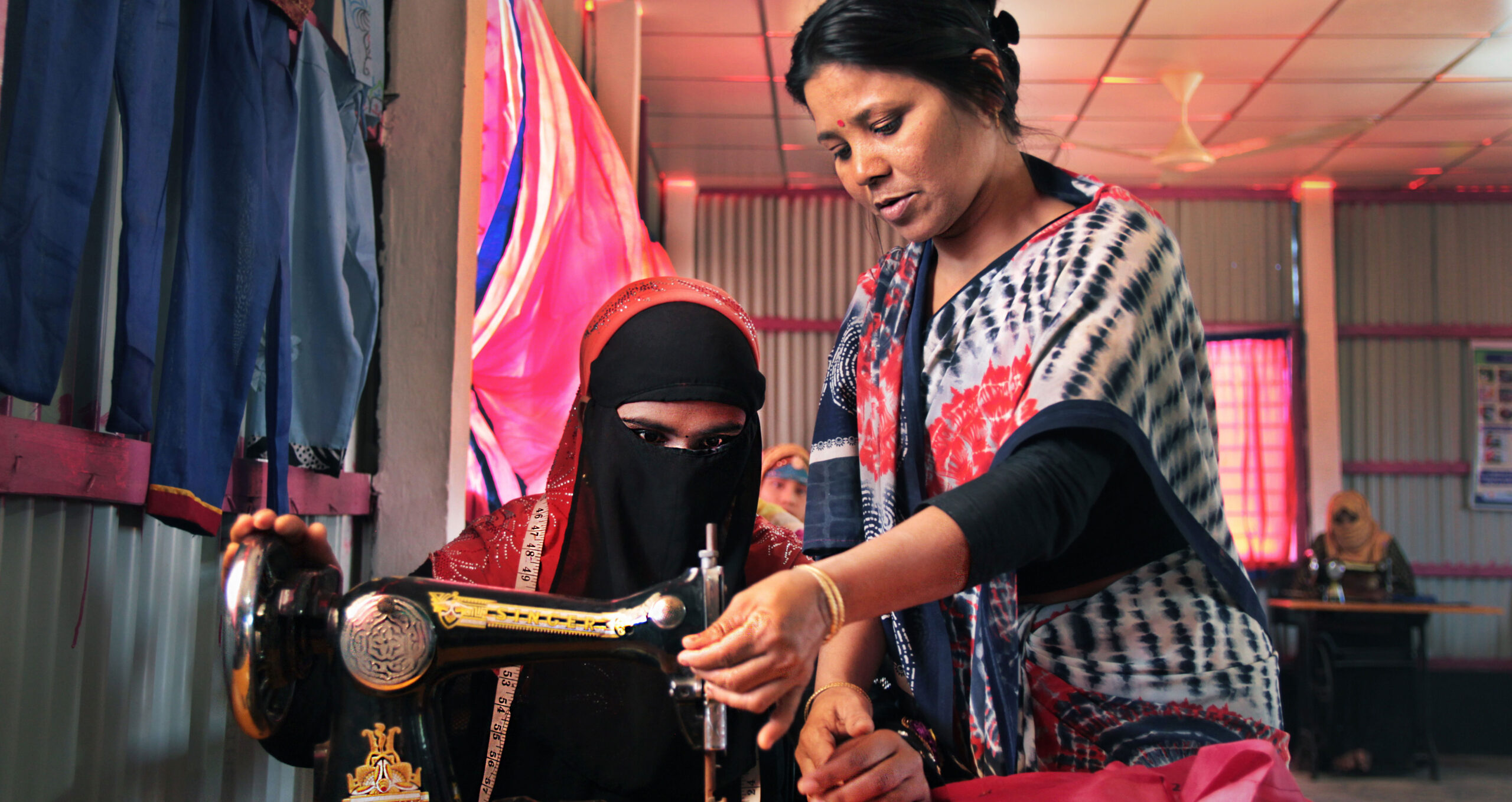 By Sadiaa Haque and Samira Syed
This piece was originally published here in NextBillion. It has been reposted below.
Innovation is often associated with the newest technology or the latest app. Often, however, it can be seen in the fresh application of a tried-and-true strategy in a new context. In Cox's Bazar, a small town on the southeastern coast of Bangladesh, extreme poverty, a fraught socio-cultural landscape and the Rohingya refugee humanitarian crisis have exacerbated existing vulnerabilities and placed an unprecedented burden on women in the host communities. BRAC is working to help them bounce back through artisanal skills training and new employment opportunities.
Cox's Bazar is one of Bangladesh's poorest and most vulnerable areas, with 17 percent of people living below the extreme poverty line, compared to the national average of 12.9 percent. The more than 900,000 Rohingya refugees now living in Bangladesh has placed an unprecedented burden on Bangladeshis living in poverty in the surrounding host communities, particularly within Ukhiya and Teknaf, where most refugees have settled. Host communities cite livelihoods and access to employment as their most pressing need, with 51 percent of locals reporting that neither they nor someone in their immediate family are able to make a living in the local economy.
A recent BBC issue of What Matters? detailed concerns among the host community in Cox's Bazar that Rohingya are offering their services at a fraction of what it would cost to employ a local Bangladeshi. The average wage for day labor has decreased by 55 percent, particularly in agriculture, salt fields and earthen work, according to a BRAC report on the impact of Rohingya refugees on host communities.
Meanwhile, the price of almost all food items has increased up to 120 percent, according to rapid assessments conducted by BRAC. With a fall in daily labor wages and a rise in the prices of basic staples, people living in poverty are resorting to desperate measures to cope, including the selling of small assets and livestock, taking on increased debt and risky migration.
The burden has been greatest for women.
Conservative cultural norms complicate the social landscape – one where women are often married by their family at a young age, unable to complete schooling, denied resources, and forced to live through intimate partner violence and polygamy.
It is not any easier for women in the refugee camps. Focus group discussions by the United Nations Population Fund have revealed similar issues, as well as new ones, such as husbands marrying other women to access more rations. It is imperative to invest in women, in both camps and host communities, by supporting livelihoods that are sustainable and empowering, to prevent further adoption of negative coping strategies.
In extending its flagship enterprise to host communities in Cox's Bazar, BRAC is investing in exactly that. Created by BRAC in the 1970s to develop livelihoods for rural women, Aarong harnesses the skills of 65,000 women artisans to market handmade products at its 21 outlets across Bangladesh. Now the country's largest lifestyle retail brand, Aarong forecasts sales and production to ensure that its artisans receive regular orders and have a consistent source of income throughout the year.
Aarong operates across Bangladesh in two ways. The first is through the Ayesha Abed Foundation (AAF), which uses a hub-and-spoke model with a main production center linked to many small sub-centers. AAF's artisans have access to BRAC's holistic development interventions, such as microfinance, maternal healthcare, hygiene awareness, subsidized latrines, human rights awareness and legal aid, daycare facilities and more. Aarong also works with over 800 independent producers, independent master-craftspeople and micro-entrepreneurs, who take direct orders from Aarong and are audited on 39 social compliance metrics.
This year, Aarong opened a production center in Ukhiya, near the refugee camps and settlements. It is the first of its kind in the region. With support from the UN's refugee agency, UNHCR, women receive on-the-job training from experienced trainers for six months and leave the program equipped with skills in machine-sewing, hand embroidery, block printing and screen printing. They are given a monthly stipend to support them throughout the training period.
Program participants are carefully selected to ensure that only women living in the most vulnerable situations are included. Most of the participants were forced into early marriage, are widowed, or abandoned by their husbands. Many never completed school beyond the fifth grade. Others had no previous source of income and those that did, relied on agriculture on a very small scale. A few worked in garments factories in Chittagong, more than five hours from Ukhiya.
Today, the project includes one main center and five sub-centers operating in the host communities, as well as six training centers in the camps. In total, almost 400 women are now being trained, with a goal of 600 by the end of the year.
The project seeks to reduce women's unpaid care work, advance women's agency, transform discriminatory gender norms and practices, encourage higher incomes, and promote better access to and control over resources. Artisans will receive holistic development support from BRAC, including financial linkages, health insurance, regular health check-ups and retirement benefits.
Breaking down employment barriers for women, particularly those living in vulnerable settings, is critical to driving future economic prosperity. Enterprises need to ensure progressive work environments that encourage women, and women need to be equipped with the skills to get those jobs and keep them. On World Refugee Day, we stand with refugees and those affected by refugee crises by declaring our commitment to sustainable, long-term support that enables everyone to realize their potential.
Sadia Haque is Deputy Manager, Reporting and Documentation, Emergency Preparedness and Response at BRAC International.
Samira Syad is Senior Manager, Executive Director's Office at BRAC International.