The data reveals an 84 percent increase in the number of child marriages prevented in the first nine months of 2020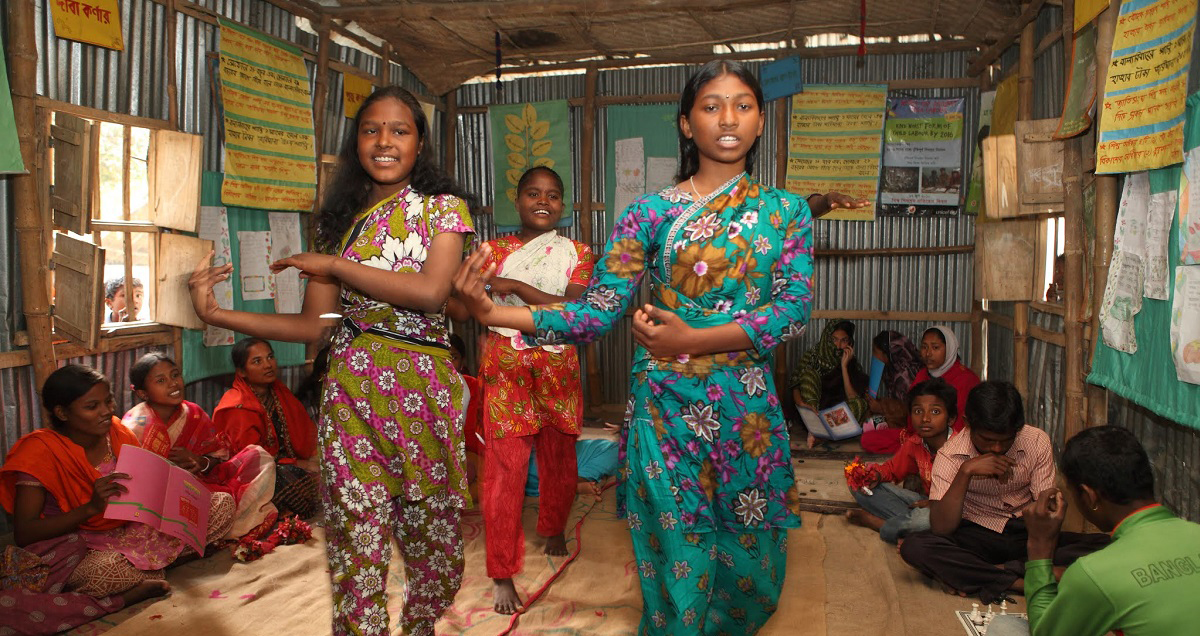 DHAKA, BANGLADESH — BRAC today released new data revealing the increased pressure on teenage girls in Bangladesh to submit to child marriage amid the COVID-19 pandemic. The data reveals the number of child marriages prevented by Polli Shomaj, the community-based women's groups that are active in 54 out of 64 districts in Bangladesh. Among other activities, Polli Shomaj work to stop child marriages and other forms of violence, and help women access community and government resources. The data is released today, as the world celebrates International Day of the Girl.
The data reveals an 84 percent increase in the number of child marriages prevented in the first nine months of 2020, compared to the first nine months of 2019. In the third quarter of 2020, with the COVID-19 pandemic widespread, the number of child marriages prevented grew by 219 percent, compared to the third quarter of 2019. The increase in child marriages prevented grew by 571 percent from the first quarter of 2020 to the third quarter of 2020.
The quarterly comparisons are as follows:
| | | |
| --- | --- | --- |
| Months | Number of Child Marriages that Polli Shomaj Prevented in 2019 | Number of Child Marriages that Polli Shomaj Prevented in 2020 |
| January- March | 96 | 79 |
| April-June | 109 | 74 |
| July-September | 166 | 530 |
| Total | 371 | 683 |
BRAC's Community Empowerment Program reports that while 683 child marriages were prevented by Polli Shomaj, a total of 778 child marriages were still reported between January and September 22, 2020. In 2019, 371 were prevented by Polli Shomaj, and 460 were reported. This is a rise of 84 percent in prevented cases and 69 percent in reported ones.
The number of child marriages prevented is a key indicator, because it reflects awareness by Polli Shomaj of local incidents and trends. The women in Polli Shomaj are well connected in their communities and understand the pressures that girls and families are under.
"These numbers are of enormous concern. This is just a glimpse of the social disruption that COVID-19 has brought on. An immediate concerted effort on socioeconomic recovery by public, private, and social sectors is critical to prevent child marriage; otherwise, we will fall behind on the progress we have made so far on achieving the Sustainable Development Goals," said Asif Saleh, Executive Director of BRAC Bangladesh.
Among the factors that Polli Shomaj cite as contributing to the growing attempts at child marriage are a range of social conditions enhanced by COVID-19. They include increasing job losses and poverty; growing food insecurity; the closing of schools, which reduces options for girls and increases the likelihood that they will not return to school; social distancing, which makes it easier to keep knowledge of child marriages from other members of the community; the reduced cost of a wedding, because large gatherings are not allowed; closed government offices, which makes it hard to check birth certificates; distraction of local government officials by the pandemic and efforts to reduce it; and the return of men who made money at overseas jobs. The range of these factors underscores the difficulty of combatting child marriage amid a pandemic.
According to the United Nations Population Fund's recently released State of the World Population report, COVID-19 may exacerbate the already concerning numbers around early marriage, violence, and sex ratio at birth. Its recent projections estimate that COVID-19 will disrupt efforts to end child marriage, potentially resulting in an additional 13 million child marriages taking place between 2020 and 2030 that could otherwise have been averted.
Notes to the editor
About BRAC
BRAC is a global leader in developing and implementing cost-effective, evidence-based programs to assist the most marginalized people in extremely poor, conflict-prone, and post-disaster settings. These include initiatives in education, healthcare, microfinance, women and girls' empowerment, agriculture, human and legal rights, and more. BRAC's vision is a world free from all forms of exploitation and discrimination where everyone has the opportunity to realize their potential. In 2020, BRAC was named the number one NGO in the world by NGO Advisor for the fifth consecutive year. Founded in Bangladesh in 1972, BRAC currently operates in 11 countries in Asia and Africa, touching the lives of over 100 million people.
About BRAC USA
Based in New York, BRAC USA is the North American affiliate of BRAC. BRAC USA provides comprehensive support to BRAC around the world by raising awareness about its work to empower people living in poverty and mobilizing resources to support its programs. BRAC USA also works closely with its international counterparts to design and implement cost-effective and evidence-based poverty innovations worldwide. BRAC USA is an independent 501(c)(3) organization.
Media contact
BRAC USA
Sarah Allen
[email protected]
A new set of books inspired by real stories from girls in West Africa aims to help girls navigate the unique challenges they face. Hear from the authors who brought their stories to life.

BY SARAH ALLEN
This summer, BRAC published a new collection of life skills books designed for girl participants in its Empowerment and Livelihoods for Adolescents (ELA) program in West Africa. The program provides safe spaces in girls' communities where they can come together to sing, dance, play games, and socialize. The ELA clubs are led by peer mentors, who facilitate training on life skills, sexual and reproductive health, financial literacy, and livelihood opportunities.
The new life skills books complement the ELA curriculum, navigating topics like forced marriage, early pregnancy, domestic violence, and other key issues that many girls in the program face. We interviewed two Sierra Leonean authors who helped write the books, Mohamed Sheriff and Allieu Kamara, to learn more about the writing process and how their own experiences growing up in the region informed their writing. Their responses have been edited for clarity and length.
How has your country or community impacted your writing?
Allieu: I became interested in writing following the end of the 11-year civil war in Sierra Leone, when I became a journalist. We undertook many research and investigative projects. One of the glaring challenges after the war was that the education system was shattered, which in turn brought about a rapid decline of literary interest. When the Canadian Organization for Development through Education partnered with PEN Sierra Leone to undertake a project called Reading Sierra Leone, it gave me greater opportunity to continue writing about local issues I observed.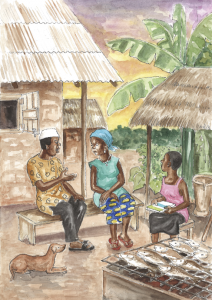 What events or other factors in your life have influenced you most as a writer?
Mohamed: My mother, who was a brilliant folk storyteller, influenced me the most. Her storytelling sessions were among my most enjoyable childhood experiences, and through them, I realized the immense power of stories to delight through both spoken and written word. I can say she was my greatest inspiration as a writer and, more specifically, the reason why I write and publish children's books.
The suspense thrillers I read as a teenager also influenced me markedly as a writer. The gripping suspense, the twists and turns, and the seamless writing style that kept me turning the pages were key factors that enhanced my love for both reading and the art of telling stories.
Another factor that greatly influenced me as a writer was the 11-year civil war in my country, which caused a lot of death and destruction. There was so much to tell and so much to write about that one simply couldn't not write.
What was your favorite book as a teenager or young adult? Why?
Mohamed: I read and enjoyed so many books that I can't single out one as my favorite. I loved the folk stories from West Africa and Africa as a whole, but I greatly enjoyed books from other places – like the Arabian Night Tales, Alice in Wonderland, Cinderella, Jack and the Beanstalk, and stories from Greek Mythology.
Allieu: 'So Long A Letter' by Senegalese author Mariama Bâ was my favourite book growing up. It deals with problems that many African women face.
The new life skills books cover challenging topics like child marriage, early pregnancy, and gender-based violence. How did you navigate these important but difficult topics as an author? 
Mohamed: It was a bit of a challenge – sometimes you want to tell the story graphically, directly, bluntly; at other times, you want to be subtle, less direct, euphemistic, ironic. Even reviewers and editors are not always in agreement about which approach is best, so I follow my instinct.
There are no hard-and-fast formulas or one-size-fits-all approaches. Storytelling is a dynamic business, each story has its own feel, temper, and peculiarities. These determine how you navigate each story.
Allieu: During the research and brainstorming sessions that led to the publication of the life skills books, the project consultant ran a workshop with the authors on ways to deal with these types of sensitive issues in our writing. The main lesson from that workshop was that the dynamics of each story should guide the author about how to address an issue.
What kind of research did you do before writing these books?
Mohamed: Before writing the books, we visited communities where BRAC runs its ELA clubs to talk to their participants, adolescent girls, many of whom have dropped out of school or experienced abuse or another violation of their human rights. They shared their experiences with us as well as their hopes, aspirations, and views about life in general.
Allieu: In another workshop before writing the books, we were trained on how to navigate interviews with stakeholders and conducted focus group discussions with girls in the program, facilitators, and community members. It was interesting listening to the girls, as each person we talked to had different stories about similar challenges.
Which of the issues covered in the books are most important to you or near to your heart? Why?
Mohamed: All the issues dealt with in the books are near to my heart because they are interrelated, in the sense that they are all human rights abuses related to gender. These include early and forced marriage, lack of access to education, sexual abuse, gender-based violence, teenage pregnancy, lack of decision-making power in the home, and more. These are issues I have addressed through my writing for a long time.
Allieu: Personally, all the issues in the BRAC life skills books are important, because they all directly deal with the problems girls are facing in our country. The content of the books actually addressed the topics that came up in our research and provided responses to those problems. I believe if girls read these books, they can be in a better position to tackle the challenges they face.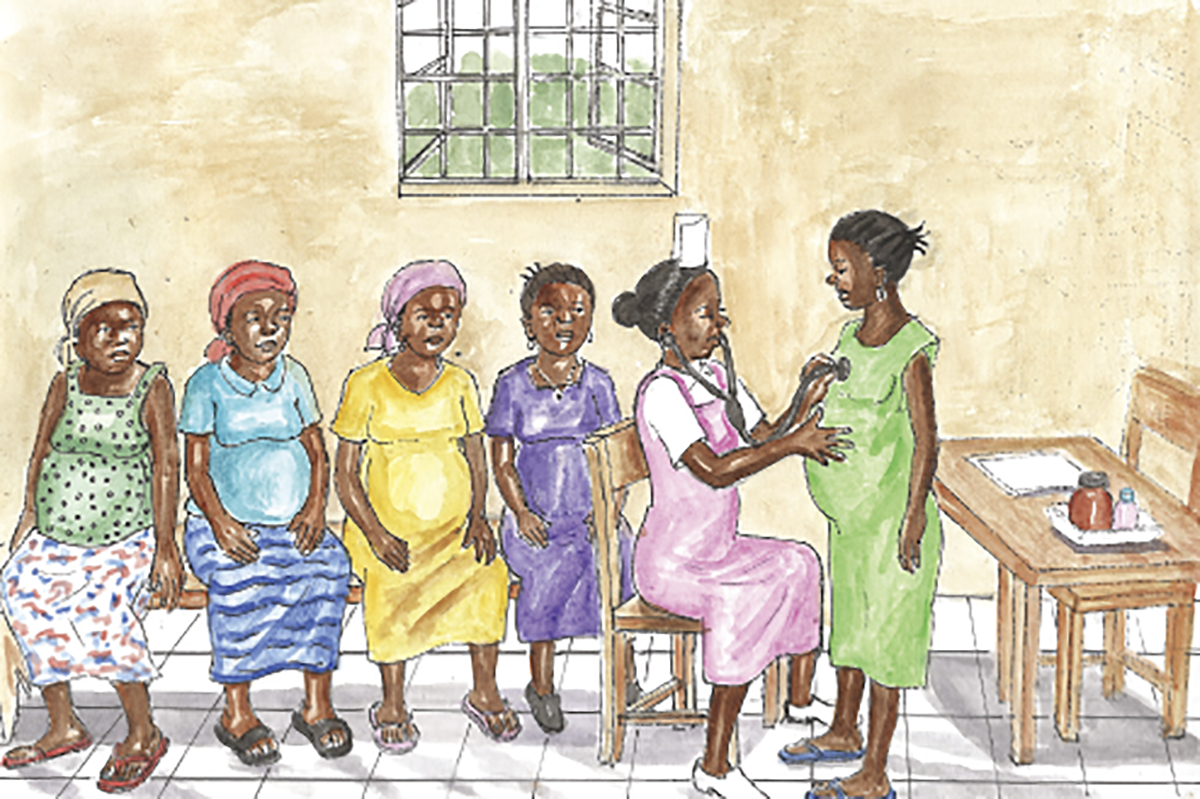 Why were you interested in working on a project with BRAC?
Mohamed: The project is specifically targeting a readership that few if any people think about – adolescent girls who have dropped out of school. Many of the books that they may have the ability to read and comprehend are children's books with content that may not match their experiences. Books that may interest them are written with more difficult vocabulary and a style that is beyond their current ability to digest. The BRAC life skills book project gave us the opportunity to produce books that provided interesting content targeted to the reading comprehension level of these girls.
What impact do you hope the life skills books will have? What do you hope readers of these books will learn or gain?
Mohamed: If a constructive reading program is organized for adolescent girls that incorporates these books, the girls could benefit in a number of significant ways. They would be exposed to positive new approaches to dealing with the gender-related human rights challenges they encounter regularly.
There are two key lessons that I want to emphasize: First, suffering in silence will not resolve their challenges, therefore, girls must speak out. Secondly, adolescent girls should never give up on their dreams and goals in life. If they persevere, they will succeed.
Perhaps more importantly, after reading all 11 books, I hope they will have adopted the habit of reading for pleasure and enlightenment. Since many of these girls may never return to formal education, adopting the habit of reading for pleasure could be one of the most valuable life skills tools they can take away from the entire BRAC program. A lifelong habit of reading is an effective means of informal self-education that could increase their communication and comprehension skills and broaden their horizons.
Allieu: Most if not all of the characters in the life skills books who experience gender-based issues reflect the experiences of girls we spoke to in BRAC's clubs. I hope that they will believe that all is not lost, and that the stories they read will inspire them to adapt to and navigate these challenges.
About the authors
Mohamed Sheriff
Born and raised in Freetown, Sierra Leone, Mohamed Sheriff is an author, writing coach, publisher, producer, and director. He writes children's books, short stories, novellas, and dramas for radio, television, and stage, and also produces and directs documentary videos, short films, and radio, television, and stage productions.
Mohamed's books include Maryama Must Go, Tibujang Must Not Come, Shasha Shooshoo and the Rat, and Secret Fear. He has contributed to plays including Not You Too and Free Juice For All. Mohamed has won several local and international awards for his writings, including three BBC awards for Just Me and Mama (1999), Spots of a Leopard (2006) and A Voice in Hell (1999) as well as the Economic Community of West African States (ECOWAS) Prize for Excellence in Literature for Secret Fear (1999). He contributed to the following life skills books: Let Me Be, You Think You Know, Broken Promise, Change of Plan, For Her Sake, and To Do and To Dare.
Allieu S. Kamara
Allieu Kamara is an author who specializes in writing children's books. He studied at Fourah Bay College at the University of Sierra Leone and brings a background in journalism. He enthusiastically promotes literature, reading, and creative writing for children in schools and communities across Sierra Leone.
Allieu's works include, Is it Magic?, The Waterside Stone, and Thief Thief! He contributed to the following life skills books: You Think You Know, Dreaming Again, and Change of Plan.
Sarah Allen is Communications Officer at BRAC USA. 
Noeline empowers girls in her community
Around the world, adolescent girls are one of the most vulnerable groups. In Uganda, high teenage pregnancy rates and few employment opportunities limit opportunities for young people who can't afford to finish school. Discover how BRAC's flagship girls empowerment program has created new opportunities for Noeline.