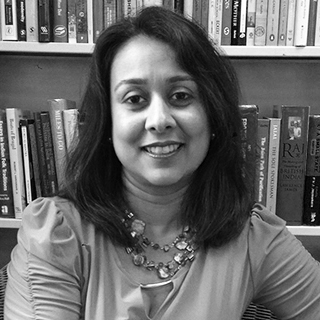 Dr. Sanchita Banerjee Saxena is the executive director of the Institute for South Asia Studies (Institute) at the University of California at Berkeley and the director of the Subir and Malini Chowdhury Center for Bangladesh Studies under the Institute. She is the editor of Labor, Global Supply Chains, and the Garment Industry in South Asia: Bangladesh after Rana Plaza (Routledge, 2020) and the author of Made in Bangladesh, Cambodia, and Sri Lanka: The Labor Behind the Global Garments and Textiles Industries (Cambria Press, 2014). Her research interests focus on labor rights in global supply chains, policy networks and coalitions, and the role of interest groups in policy making. Prior to joining the Institute, she was the assistant director of economic programs at the Asia Foundation.
During the summer of 2016, Dr. Saxena was a practitioner resident at the Rockefeller Foundation's Bellagio Center in Italy. She has also been a public policy fellow at the Woodrow Wilson International Center for Scholars in Washington D.C. in 2010 and 2014. She has served on the executive committee of the American Institute of Bangladesh Studies (AIBS) and is on the board of trustees of the American Institute of Indian Studies (AIIS), the American Institute of Sri Lankan Studies (AISLS), and the South Asia Summer Language Institute (SASLI). Dr. Saxena was formerly on the advisory council for Human Rights Watch, SF, on the board of the Center for the Pacific Rim at the University of San Francisco, and on the board of LinkAsia.
Dr. Saxena has taught courses at UC Berkeley, UC Davis, and the University of San Francisco. She has given invited lectures at several universities and institutions, including Georgetown University, Johns Hopkins University, Harvard University, the National University of Singapore, the London School of Economics, the United States International Trade Commission, the Center for Global Development, and the United Nations in Geneva. Her commentaries have been featured in the New York Times, Economic and Political Weekly, Thomson Reuters, The Daily Star, Globe and Mail and aired on Public Radio International, Voice of America, LinkTV, KPFA, and on the Institute for Human Rights and Business' annual Top 10 Business & Human Rights issues for 2018. Dr. Saxena holds a BA in English and sociology from UC Davis and a MA and PhD in political science from UCLA.