September 16, 2022
BRAC celebrates 50 years of igniting hope at Ford Foundation event
Last night, BRAC welcomed staff, partners, supporters, and friends for a night of celebration at the Ford Foundation in New York City.

BY BRAC USA
Last night, staff, partners, supporters, and friends gathered to celebrate BRAC's 50th anniversary at the magnificent Ford Foundation Center for Social Justice in New York City. It was a beautiful evening filled with delicious food, thoughtful conversation, inspiring speeches, and an extraordinary dance performance.
The year 2022 marks the 50th anniversary of BRAC's founding in Bangladesh in the wake of a war that secured the nation's independence and a devastating cyclone that left it paralyzed. From those humble beginnings, BRAC has evolved to become the world's largest Southern-based international development organization. Today, thanks to our supporters and partners, we reach over 100 million people with proven poverty innovations.
Last night was an opportunity to celebrate those 50 years of igniting hope. The night kicked off with a welcome from Donella Rapier, President and CEO of BRAC USA.
"For BRAC, 2022 marks half a century of igniting hope with hard work, courage, resilience—and an unwavering belief in the power of people to unlock their potential and rise above poverty," shared Donella as she welcomed guests to the event. "Tonight, we want to celebrate and thank you – our community – for your belief in BRAC and your role in our success."
We were also honored to be joined by Mark-Malloch Brown, President of the Open Society Foundations, who moderated a panel between three of BRAC's senior leaders: Tamara Hasan Abed, Managing Director of BRAC's enterprises and Chair of the BRAC University Board of Trustees; Shameran Abed, Executive Director of BRAC International, and Asif Saleh, Executive Director of BRAC Bangladesh.
Prior to the panel, Mark-Malloch Brown also addressed the audience. "I wish to offer my congratulations to BRAC on its 50th anniversary," he shared. "Through all the changes and challenges of the last 50 years, BRAC has given Bangladesh, and now the world, a new model for change, and offered a new reason for hope to millions of people."
BRAC was also thrilled to be joined by Darren Walker, President of the Ford Foundation, who gave a keynote speech at the event.
"The issue of the day is inequality," he declared. "Systems need to be addressed in ways where those of us who are privileged really interrogate our own practices and behaviors that contribute to the growing inequality. Change requires humility, moral courage, and an unwavering commitment from all of us—from you—to support democratic values and institutions like BRAC."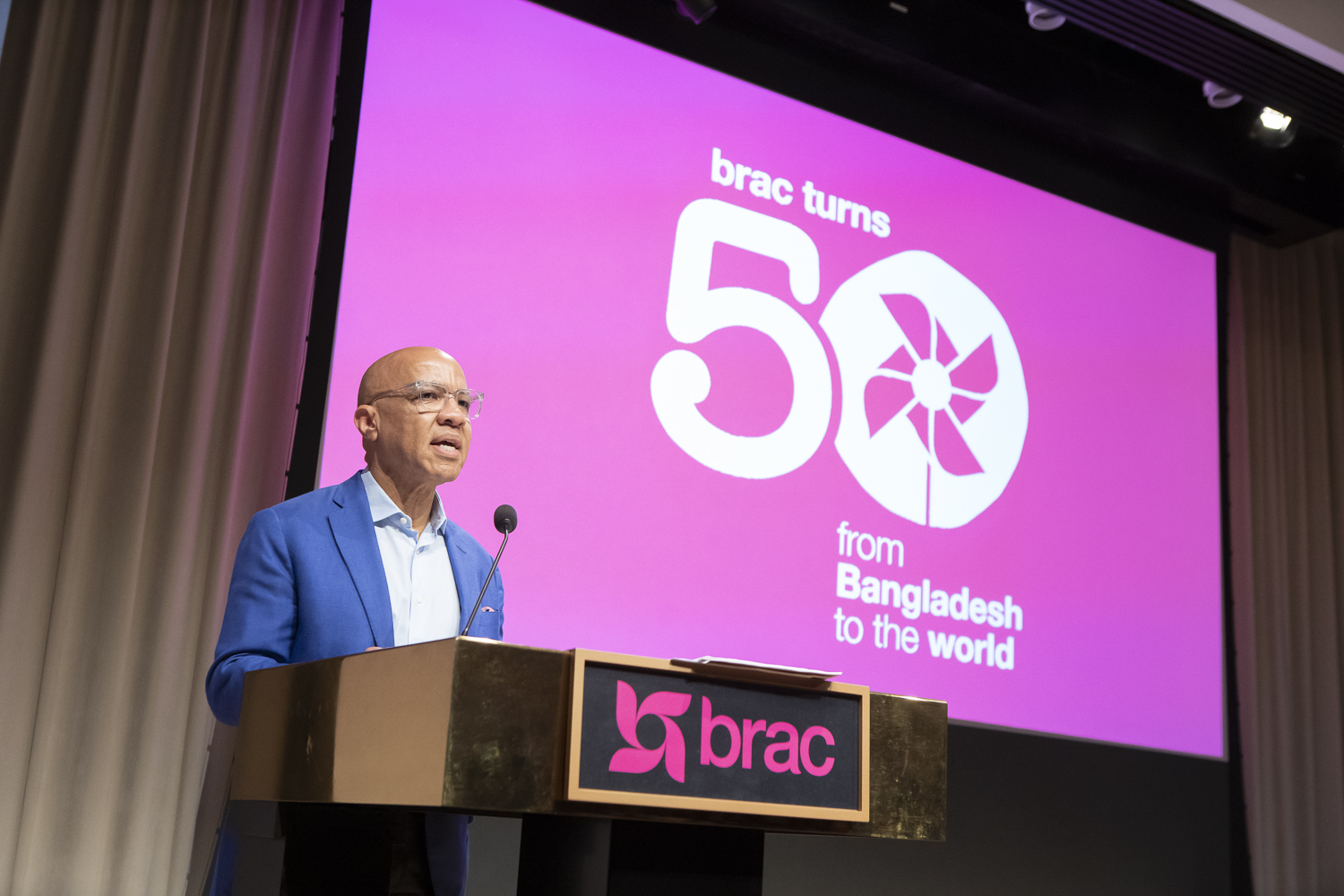 Darren Walker addresses the crowd at BRAC's 50th Anniversary celebration in New York City.

The final speaker of the evening was Faatiha Aayat, a ten-year old author, climate activist, and child rights advocate. She issued a bold and moving call to action to the audience: "Please champion BRAC USA's youth programs to enable young people to reach their full potential. So many of you here are important supporters and advocates that have helped BRAC make progress on these issues. Together with BRAC, let's defeat poverty, defend the planet, and demand equity."
To close out the program, guests were dazzled by an original dance and poetry performance curated for the event by Jatrik Productions. The dance, set to original music composed especially for the performance, was based on classical folk and contemporary forms of dance from Bangladesh.
Performed by three Bangladeshi dancers who traveled to New York for the event, the dance was interwoven with poems, prose, and words of women throughout the ages, including activists, writers, and poets from Bengal. The performance was an exploration of the age-old forces that have held women back and the power of women's voices to forge change. The performance closed with a tribute to BRAC and its founder.
"There is no pillar of stability stronger than a free, educated woman, and there is no more inspiring role model than a man who respects and cherishes women and champions their leadership. Thank you Sir Fazle Hasan Abed, and bravo BRAC for 50 years of championing women's leadership."
BRAC's founder, Sir Fazle Hasan Abed, believed unquestioningly in the power of people. He built BRAC on that belief. For 50 years, BRAC has proven that with the right tools, knowledge, and opportunities, people in situations of poverty and inequality can tackle their own challenges and become the most powerful drivers of change.
As we celebrate BRAC's history, we are reminded of how far we've come—and of the challenges and opportunities that lie ahead.