January 10, 2022
BRAC Global welcomes its first Executive Director
BRAC Global welcomes Jerome Oberreit as its first Executive Director.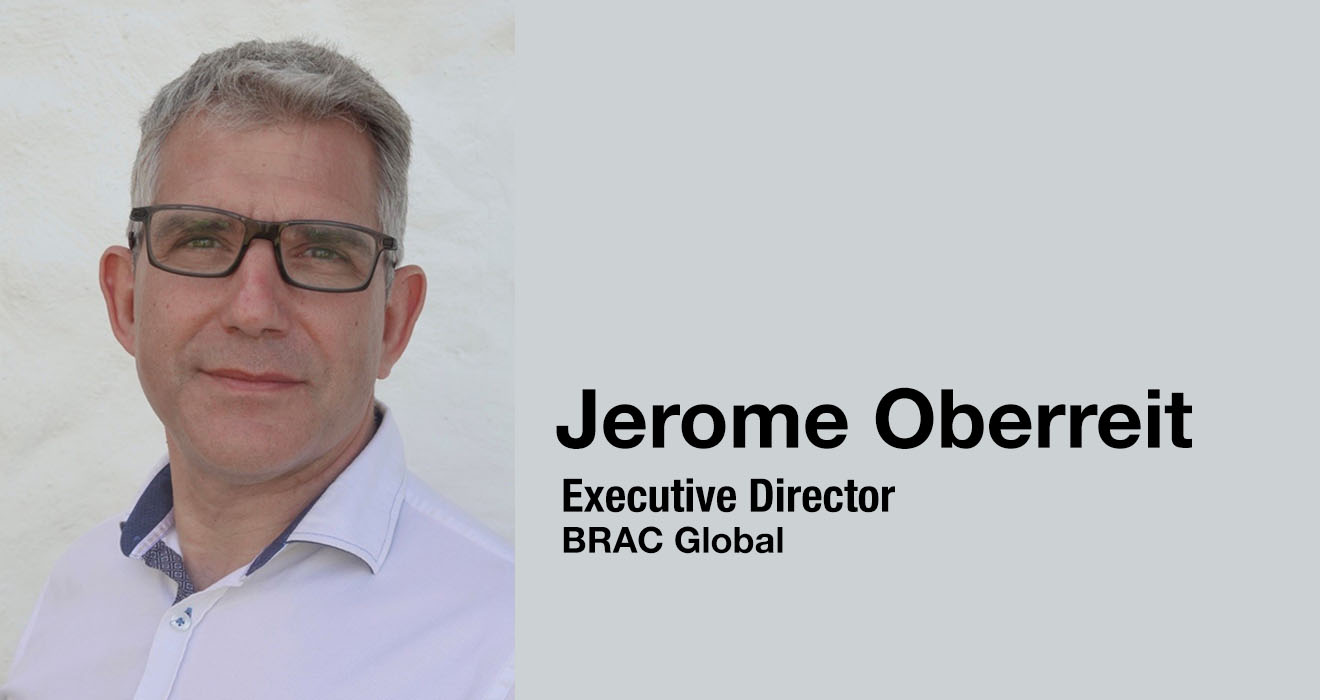 GENEVA, SWITZERLAND – BRAC Global is pleased to announce that Jerome Oberreit has been appointed as its first Executive Director, effective January 10, 2022.
BRAC is an international development organization founded in Bangladesh in 1972 that partners globally with over 100 million people living with inequality and poverty to create sustainable opportunities to realize their potential. BRAC Global was established in 2019 by BRAC's founder, the late Sir Fazle Hasan Abed, to promote policy and programmatic lessons from BRAC among the global development community, and to provide coordination and coherence across all of BRAC's entities. The OneBRAC family includes two operational entities – BRAC Bangladesh and BRAC International; and two fundraising entities – BRAC UK and BRAC USA. BRAC Global is distinct from BRAC International, which implements BRAC's development programs on the ground in all countries apart from Bangladesh.
As Executive Director of BRAC Global, Jerome will, together with the leaders of other BRAC entities, play a critical role in advancing BRAC's global strategy, resource mobilization, and organizational development. Jerome will guide the development of key cross-cutting issues, including risk management and safeguarding, human resource, financial management, communications, monitoring, and learning.
"The Board of BRAC Global is delighted that Jerome Oberreit brings to the OneBRAC family a range of relevant experience and skills from his distinguished career with Médecins Sans Frontières (MSF) and is confident that Jerome will provide the kind of facilitative leadership to the OneBRAC family that BRAC Global is committed to," said Marty Chen, Chair of the BRAC Global Board.
"As BRAC turns 50, its achievements as a truly person-centric organization are humbling. I am both honored and excited to be the Executive Director of BRAC Global. We remain in a world of great uncertainly as the pandemic, climate change, global inequalities, and the continued unprecedented displacement remind us. These uncertainties reinforce the need for all of us, individually and collectively, to be socially enterprising. With a deep understanding of poverty reduction, BRAC has shown, through a supportive and inclusive approach with each individual, community, and national partnership, how empowerment can create the necessary opportunities to turn lives around in the most challenging environments. BRAC is critical to reducing poverty and paving the road to social justice in our fast-changing world. I very much look forward to being part of this incredible journey," said Jerome.
From 2012 to 2018, Jerome was the Secretary General of Médecins Sans Frontières International, having been the Director of Programs from 2006 to 2012. He was instrumental in coordinating complex organizational systems in a multi-centric organization focused on providing health services to the most neglected in resource-limited environments. In this role, he led global positioning efforts and defined strategies and systems for securing resources (financial, human, and technical), ensuring both internal and external accountability. He also has country-level experience with MSF in several African countries and in the Middle East.
From 2019 to 2021, Jerome took part in the development of the Global Antibiotic Research and Development Partnership (GARDP), a new initiative launched by the World Health Organisation and Drugs for Neglected Disease Initiative, where he held the position of Senior Advisor to the Executive Director.
Jerome is fluent in French and English, holds a master's in geography, and a bachelor's in politics and geography.
Notes to the editor
ABOUT BRAC
BRAC is a global leader in developing and implementing cost-effective, evidence-based programs to empower the most marginalized people in extremely poor, conflict-prone, and post-disaster settings. Founded in Bangladesh in 1972, BRAC now touches the lives of more than 100 million people across 11 countries in Asia and Africa. BRAC takes a holistic approach to alleviating poverty, running programs in education, health care, financial inclusion, youth empowerment, agriculture, and more. In 2021, it was ranked the top NGO in the world by NGO Advisor for the sixth consecutive time.
ABOUT BRAC USA
Based in New York, BRAC USA is the North American affiliate of BRAC. BRAC USA provides comprehensive support to BRAC around the world by raising awareness about its work to empower people living in poverty and mobilizing resources to support its programs. BRAC USA also works closely with its international counterparts to design and implement cost-effective and evidence-based poverty innovations worldwide. BRAC USA is an independent 501(c)(3) organization.
Media contact
BRAC USA
Sarah Allen, Communications Manager
[email protected]