March 23, 2021
BRAC stands by fire victims in the Rohingya refugee camps
BRAC has mobilized its team to provide urgent emergency assistance to affected families in Cox's Bazar.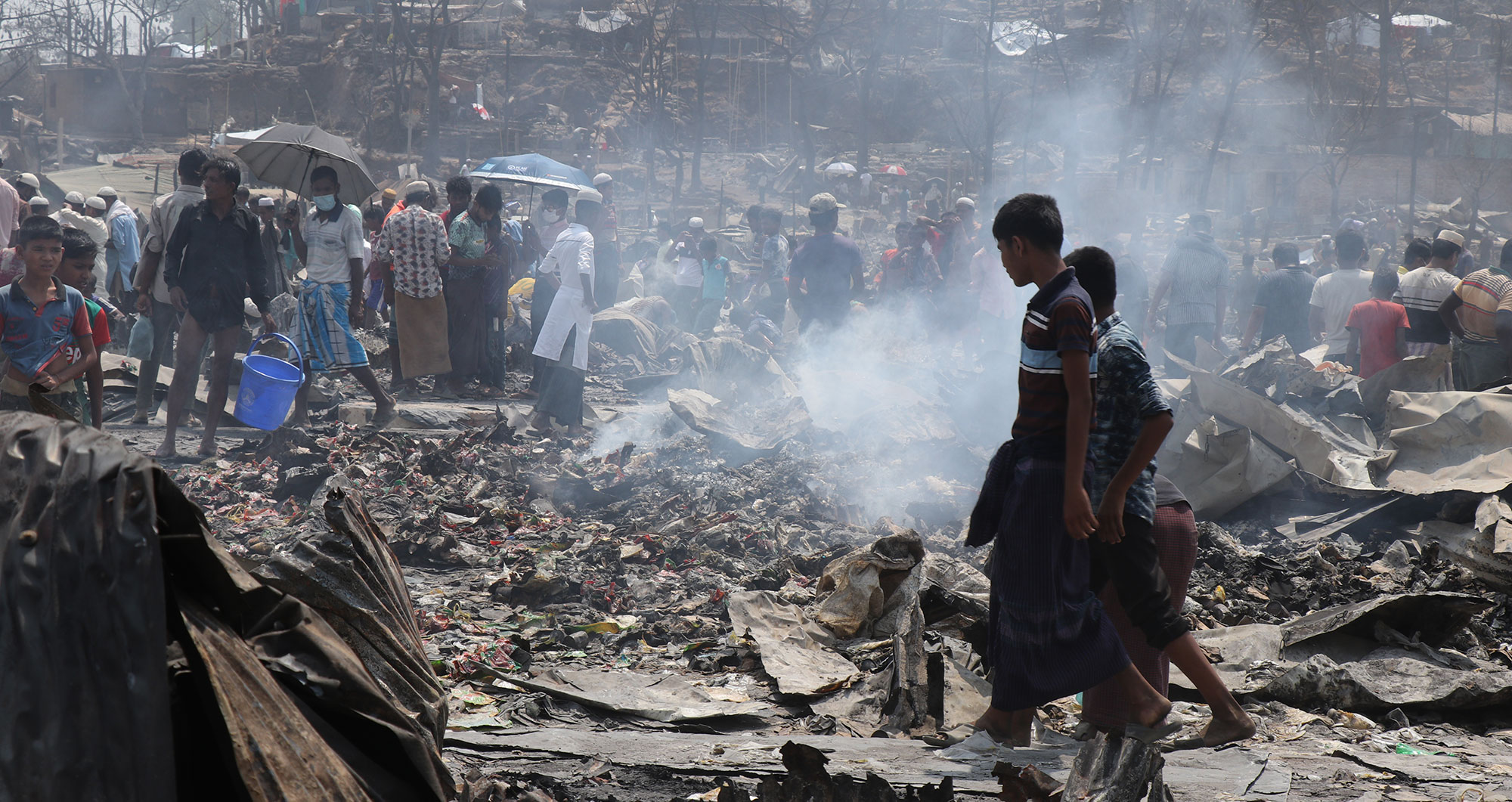 COX'S BAZAR, BANGLADESH — BRAC has mobilized its team to support families affected by a devastating fire in Rohingya refugee camps in Ukhiya, Cox's Bazar, Bangladesh.
The devastating fire that broke out in refugee settlements in the Kutulpalong Balukhali area on Monday afternoon displaced several thousand families. Government response services, including fire services, rescue and response teams, and volunteers, rushed to the scene immediately. Aid and development agencies have joined the response efforts in partnership with the office of the Refugee Relief and Repatriation Commissioner.
According to United Nations High Commissioner for Refugees, the area sheltered over 125,000 people before the fire, and nearly all of them have been displaced and are now squatting in open areas nearby.
The Deputy Commissioner of Cox's Bazar and the Upazila Nirbahi Officer, a local government officer, immediately visited the affected areas and requested that BRAC deliver emergency support for basic needs including providing medical support, distributing tarpaulins for temporary shelter, and ensuring health, hygiene, and protection services for women and girls.
BRAC promptly mobilized an emergency medical team to provide basic first aid support to affected people at safe shelters. Its primary health care centers in two nearby camps, camp 8E and camp 13, are fully operational and a medical team of about a dozen people is providing primary health care at nearby Balukhali Kashemia High School. Over 200 injured people have already been reached with emergency medical care.
BRAC has also distributed nearly 12,000 packets of high-energy biscuits and 8,000 liters of water to families taking shelter in the field at the high school. Additionally, over 800 cooked meals have been supplied to nearly 600 people. BRAC has also provided 5,500 jerrycans to Oxfam to deliver clean water to affected families and another 800 jerrycans have been stockpiled for distribution. Nearly 1,000 tarpaulins have been distributed as emergency shelters.
"It is a terrible disaster," said Sajedul Hasan, Director of Humanitarian Programs at BRAC. "We expect that coordinated interventions by the government, BRAC, and other non-governmental organizations will help bring normalcy into the lives of affected Rohingya families at the earliest possible time. BRAC has already distributed food and drinkable water to the affected families. Health care facilities for the injured people are ongoing. Several initiatives are also underway to protect women and children."
BRAC's gender-based violence team has opened emergency shelters for women and girls in camps 8E, 8W, 5, and 6, and some families have already taken shelter there. It has also stockpiled 1,000 emergency dignity kits that contain hygeine and sanitary items as emergency support for women and girls.
BRAC's child protection team has mobilized volunteers to identify and support children and adolescents who have been separated from their families. Identified missing children are being provided with high-energy biscuits and taken to safe shelters.
BRAC thanks the local government authorities, partners, and frontline responders who are working together to respond to the crisis and ensure safety for all.
Notes to the editor
About BRAC
BRAC is a global leader in developing and implementing cost-effective, evidence-based programs to empower the most marginalized people in extremely poor, conflict-prone, and post-disaster settings. Founded in Bangladesh in 1972, BRAC now touches the lives of more than 100 million people across 11 countries in Asia and Africa. BRAC takes a holistic approach to alleviating poverty, running programs in education, health care, financial inclusion, youth empowerment, agriculture, and more. In 2020, it was ranked the top NGO in the world by NGO Advisor for the fifth consecutive time.
About BRAC USA
Based in New York, BRAC USA is the North American affiliate of BRAC. BRAC USA provides comprehensive support to BRAC around the world by raising awareness about its work to empower people living in poverty and mobilizing resources to support its programs. BRAC USA also works closely with its international counterparts to design and implement cost-effective and evidence-based poverty innovations worldwide. BRAC USA is an independent 501(c)(3) organization.
Media contact
BRAC USA
Sarah Allen
[email protected]