September 25, 2021
Collaborating to navigate COVID-19 recovery
At Global Citizen Live, the LEGO Foundation announced a new commitment to support children and families affected by the COVID-19 pandemic across the world.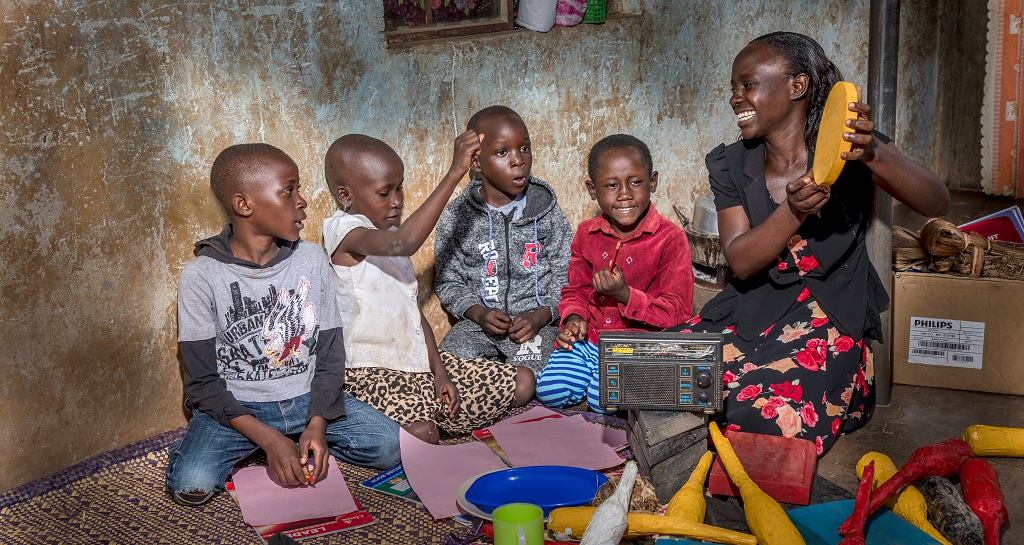 BILLUND, DENMARK — At today's Global Citizen Live event, the LEGO Foundation announced a new $150M USD donation to support children and families affected by the COVID-19 pandemic across the world.
COVID-19 isn't just crushing under-resourced fragile health systems, it's attacking the way children access education, the way their families earn an income to cover their needs, and how safe they feel in their homes, communities, and countries. This is a child right's crisis.
Close to half of the LEGO Foundation's contribution ($70M USD) to UNICEF will therefore support access to vital vaccines and health supplies benefitting parents, teachers, and caregivers in vulnerable communities around the world. The remaining $80M USD will enable the Foundation's many partners such as BRAC, working with children to accelerate ongoing COVID-19 recovery. The support builds on a $50M USD donation announced in March 2020 shortly after the pandemic first forced millions of children around the world from their usual learning environments.
"The COVID-19 pandemic has completely re-shaped – and in many cases devastated – the lives of millions of children worldwide. It's our responsibility to invest in children to ensure they continue to have access to education and develop skills critical for them to thrive in a constantly changing world," said Thomas Kirk Kristiansen, Chair of the Governing Board, The LEGO Foundation, and 4th generation representative of the LEGO owner family. "It's our hope that others will see this as a high priority for investments. If we do not all invest now, we risk significant setbacks in child development, which will impact us all for generations."
"We are at a transformational moment for educational systems everywhere. This donation builds on the LEGO Foundation's core values of finding creative solutions to the difficult challenges, caring for children and the communities they live in, and the power of collaboration to address the challenges, and opportunities, posed by the COVID-19 pandemic" said Anne-Birgitte Albrectsen, Chief Executive Officer, LEGO Foundation. "Together we need to make a leap in playful learning, creating a future that promotes inclusive education, lifelong learning opportunities for all children, and where holistic skills and innovation are central. We call on the private sector, philanthropic organizations, governments, and other donors to donate generously to the global COVID-19 response. No one is safe until everyone is safe."
COVID-19 has threatened to rewind the clock on decades of progress made in education. 90% of children in the world have had their education interrupted due to COVID-19. And while the 'lost learning' to children has been widely reported – due to school closures, lack of access to learning opportunities, and COVID-19 restrictions – the full scale of the impact is still largely unknown. By collaborating in these critical moments of recovery, together we can ensure that the next generation is not deprived of holistic development.
"The COVID-19 pandemic has put a heavy toll on children, especially the most vulnerable ones. It kept them away from their schools and their friends, forced them into labor and child marriage, and pushed their families deeper into poverty," said Henrietta Fore, UNICEF Executive Director. "This is a global crisis, and it calls for action from all of us: governments, international organizations, businesses, and individuals. We thank the LEGO Foundation for its generous contribution. By helping us provide critical vaccines to those who need them the most, this donation puts us one step closer to achieving vaccine equity and getting our lives – and our economies – back on track."
"We're delighted to be able to continue our Play Lab partnership with the LEGO Foundation to deliver remote and digital playful learning experiences to young children and their families as we navigate the pandemic. This funding ensures we can continue to scale outreach and support a greater focus on early childhood development and improving the mental health of children and their caregivers across Bangladesh, Tanzania, and Uganda." said Erum Mariam, Executive Director of BRAC Institute of Educational Development, BRAC University.
Notes to the editor
About the LEGO Foundation
The LEGO Foundation shares the mission of the LEGO Group: to inspire and develop the builders of tomorrow. The Foundation is dedicated to building a future in which learning through play empowers children to become creative, engaged, lifelong learners. Its work is about re-defining play and re-imagining learning. In collaboration with thought leaders, influencers, educators and parents the LEGO Foundation aims to equip, inspire and activate champions for play. www.LEGOfoundation.com.
About BRAC
BRAC is a global leader in developing and implementing cost-effective, evidence-based programs to empower the most marginalized people in extremely poor, conflict-prone, and post-disaster settings. Founded in Bangladesh in 1972, BRAC now touches the lives of more than 100 million people across 11 countries in Asia and Africa. BRAC takes a holistic approach to alleviating poverty, running programs in education, health care, financial inclusion, youth empowerment, agriculture, and more. In 2020, it was ranked the top NGO in the world by NGO Advisor for the fifth consecutive time.
Media contact
BRAC USA
Elizabeth Wright, Director of Communications
[email protected]
LEGO Foundation
Ketchum
[email protected]