December 20, 2020
Honoring Sir Fazle Hasan Abed: One-year memorial message
Dr. Muhammad Musa, Executive Director of BRAC International, shares reflections on Sir Fazle's life and legacy on the anniversary of his passing.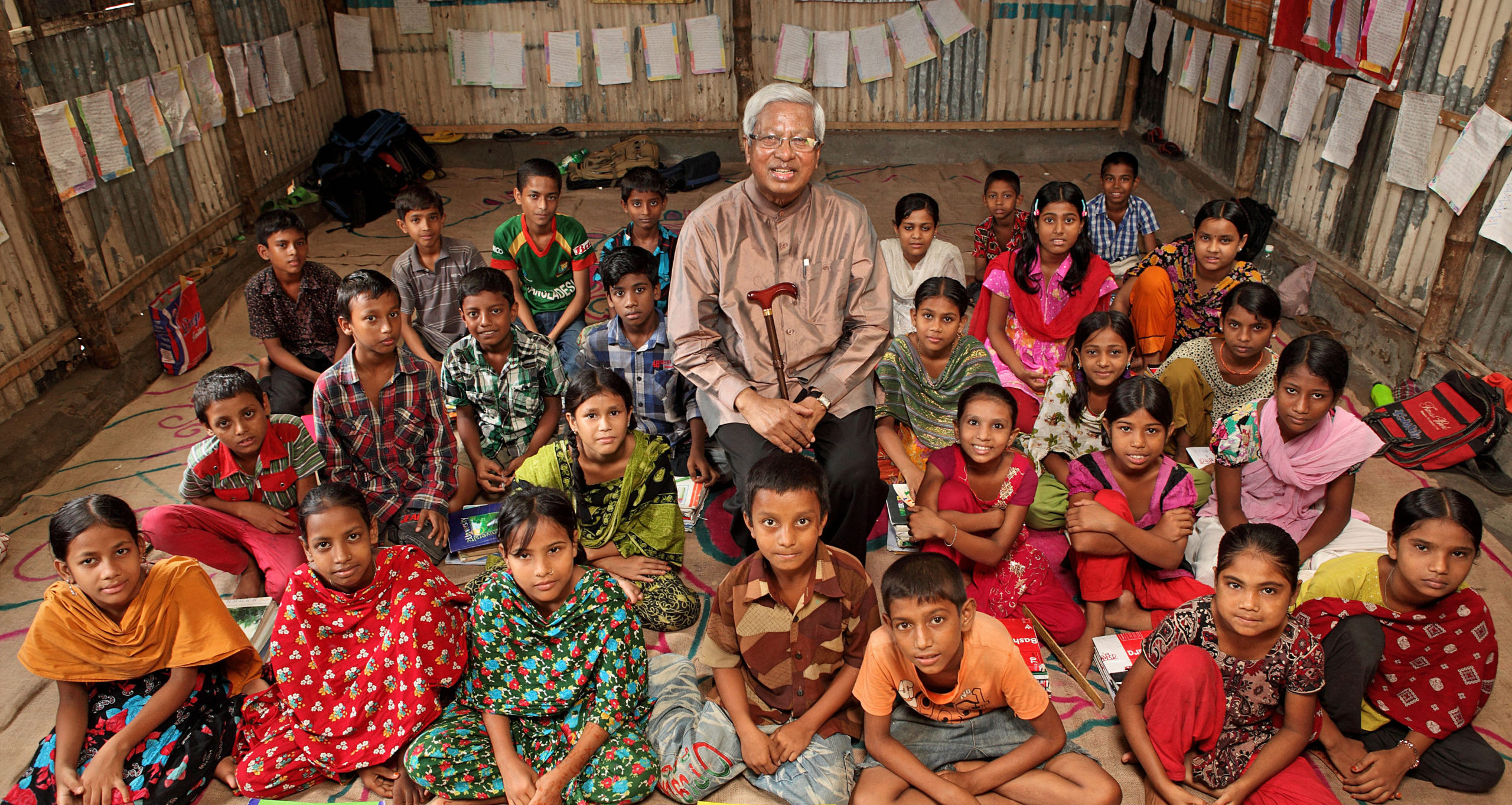 By Dr. Muhammad Musa
On December 20, 2020, we marked the first anniversary of the passing of BRAC's beloved founder, Sir Fazle Hasan Abed. On this day, I am reflecting not just on Abed Bhai's life and legacy, but also on who he was as a person and how he touched the lives of those around him. 
Abed Bhai—as those of us who knew him called him with respect and affection—contained multitudes. He was a global leader with vision and purpose, a courageous decision-maker and institution-builder, a humble personality who didn't like the spotlight, and a loving family member and father. He built one of the largest and most successful development organizations in the world, but always highlighted the work of others above his own. A pioneer of social enterprises as a tool to address poverty and social injustice—and a lover of poetry, music and art—Abed Bhai was many things, but above all he was a man with a calling to help make the world a better place, not only for the current generation, but also for all those yet to come.

I am incredibly grateful that I had the opportunity to work closely with Abed Bhai, especially in the last four years of his life. I was fortunate, as our offices were facing each other, to have many chances to interact with him informally on a regular basis. I will always cherish the days (and occasional late nights) of conversation and reflecting on work and life together.
Although I miss our conversations in the office, I learned the most from Abed Bhai in the field. I believe his last field visit was to the Rohingya refugee camps in Cox's Bazar, Bangladesh, in March 2019. We were together for two full days, driving miles to reach the refugee camps, followed by hours spent walking the narrow lanes in between the hundreds of tents in which Rohingya families were living. Together, we visited BRAC's innovative Humanitarian Play Labs for the children of Rohingya refugees, observed in-camp income-generating centers for refugee women, and witnessed learning centers where children were receiving education services.
Abed Bhai was tireless, walking from morning to evening, intently observing each program. He was always appreciative of the great work that our team members were doing, while at the same time identifying ways to pursue even higher levels of excellence and challenging us to achieve even greater impact. It was one of the most rewarding learning experiences of my career. I realized on that trip that a BRAC leader needs to be extremely appreciative of the work of her/his/their team, but must never become complacent or satisfied. Abed Bhai wanted us to continually raise the bar of the quality and scale of our programs. That was our Abed Bhai, who never felt we were done, but, rather, always believed we still had a long way to go!
One year has already passed since our beloved Abed Bhai left us: I continue to miss him. I miss his voice, his smile, his affection, his teaching, and most importantly his enormous ability to help solve complex problems through simple and non-bureaucratic actions. Even though he is no longer with us, I still feel his spirit around me every day. In a year that has tested us all, the collective commitment of everyone in the global BRAC family—from field staff to management to donors, partners, and board members—to fight for a better world proves that the spirit of BRAC, the spirit of Abed Bhai, is still alive and well.
I am so grateful to have been able to know a man such as Abed Bhai, but I am even more grateful for the community, the BRAC family, that he built and so many are part of. Abed Bhai's shining accomplishment is the people he was able to bring together—from his wife and children, to his lifelong friends who are still involved in the organization, to all the hundreds of thousands of people who make BRAC what it is.
Although today we look back in remembrance of Abed Bhai's amazing life and accomplishments, tomorrow we look forward to carrying on his spirit and vision to create a world free of poverty, inequality, and injustice. Thank you for being a part of this collective effort.
I look forward to continuing Abed Bhai's journey with you all.
Dr. Muhammad Musa is the Executive Director of BRAC USA.