March 07, 2022
International Women's Day 2022: Breaking the cycle
On International Women's Day, March 8th, the world celebrates the achievements of women – while also highlighting stark inequalities that limit the rights, well-being, and potential of women and girls everywhere.

BY ELIZABETH WRIGHT
Photo by Alison Wright.
This year, it's vital to recognize the impact of COVID-19 on gender inequality and poverty. The pandemic caused millions of women to lose — or leave — their jobs and livelihoods to care for children and other family members at higher rates than men, according to UN reports.
Despite remarkable progress, women worldwide are still more likely than men to live in extreme poverty.
Globally, women earn 24 percent less than men
An estimated 75 percent of women in low-income countries work in the "informal economy," without legal rights or secure benefits.
Including unpaid work at home, women worldwide work longer days on average than men; a woman today will work four years more than a man over her lifetime.
Breaking the cycle: Women as catalysts of change
Since BRAC was founded in Bangladesh 50 years ago, investing in the power of women has been at the center of our work.
We know that advancing the status of women enriches the world. And we have proof that investing in women can break the cycle of poverty for the long term.
When women earn income, they are likely to reinvest most of it in their families – which benefits communities and local economies. Investing in women drives change that extends far beyond a single individual – it is a force multiplier that can help break the cycle of poverty.
How does this chain reaction work?
BRAC partners with women living in extreme poverty through holistic, integrated programs that help them to increase their earnings, form strong support networks and uplift their peers, and believe in their self-worth and value. Through their involvement in our initiatives, women are able to invest in their health, homes and families and expand small businesses. This helps them gain power in their homes, finance their children's education and careers, and become role models for their children and communities.
We also work on shifting attitudes and practices to expand opportunities available to women. As teachers, community health workers, development professionals, program participants, clients, artisans, and entrepreneurs, women drive inter-generational change and build stronger communities and economies.
When given access to the right opportunities and support, women living in poverty can become powerful agents of their own success.
Three powerful women leading the fight against poverty
We can't think of a better way to celebrate International Women's Day than by highlighting three BRAC women working to break the cycle of poverty.

Dr. Erum Mariam: Executive Director, BRAC Institute of Educational Development

(Editor's note: These quotations are from an interview with Dr. Mariam originally published in India Development Review.)
>>> Read Dr. Mariam's International Women's Day 2022 op-ed.
Dr. Mariam has extensive experience scaling up education interventions for BRAC, both nationally and globally, and was involved in the expansion of the unique BRAC-run non-formal primary schools in the 1990s. BRAC's globally recognized Play Labs and Humanitarian Play Labs have been developed under her leadership, focusing on early stimulation and children's well-being in diverse settings.

"There were, and are, a host of cultural reasons due to which girls drop out of school … Along with cultural reasons, there are also issues of accessibility that force girls to drop out. Our education program is centered around a 'second-chance' model, where we work with school dropouts.
"We choose women from the community to be teachers, even if they don't necessarily have the education qualifications that would ordinarily be required for the public education system.
"Women from the communities are better equipped to understand these children, and are also supported and trusted by other members of the community—parents and teachers who form our school management committees. [These women] are the ones who take the school forward. The well-being of their community lies in their hands. Our staff just help them organize.
"We believe that people in poverty can solve their own problems, we are simply there to assist them."
Leila: Community health worker, Uganda

Leila, a community health worker in Uganda, went door-to-door for BRAC during the COVID-19 lockdown selling essential household items in hard-to-reach areas. She carried with her solar lights, diapers, porridge, sanitary towels, and mama kits to prevent infections linked to childbirth in mothers and newborns, which include gloves, baby blankets, soap, cotton, gauze, scissors, and bandages.
Leila is one of 4,000 BRAC community health workers across 72 districts in Uganda that continued to provide critical door-to-door care during COVID-19.
Leila says, "Before I went to the field during the coronavirus pandemic, BRAC provided training on financial literacy and basic community health practices. We are always reminded to work under strict practice of COVID-19 safety guidelines, such as wearing face masks and maintaining physical distance."
Lucy: Farmer and entrepreneur, Liberia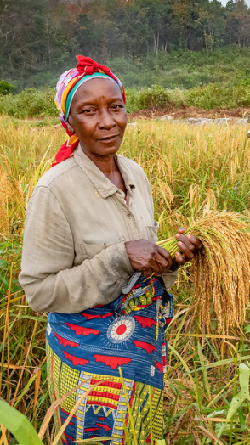 Lucy is a rice farmer, mother, and community entrepreneur. In 2020, she joined BRAC's agriculture program in Gbarnga, Liberia, where she trained in climate-smart farming techniques. "I learned how to pull rice, plant in lines, bundle it, and plant a seedling nursery." Climate change threatens farmers like Lucy by creating hazards such as droughts, floods, and crop disease. BRAC's climate-smart farming programs help farmers adapt and respond to adverse climate impacts and adopt sustainable practices.
BRAC's program helped Lucy connect with other farmers in her village. Now, their community co-op helps harvest and dry the rice, and when the rice is sold, the whole community splits the dividends. Lucy's efforts have become a catalyst of change for her family and neighbors.
Equipped with new skills and tools, Lucy is earning enough money to support her family and save for the future. She puts a portion of her earnings into savings. At the end of the year, she invests in her children, tools for the farm, food, and towards a fund to buy more land.
This International Women's Day, stand with women and girls around the world.
Elizabeth Wright is the Director of Communications at BRAC USA.