October 11, 2020
New data reveals increased pressure on teenage girls in Bangladesh to submit to child marriage amid the COVID-19 pandemic
The data reveals an 84 percent increase in the number of child marriages prevented in the first nine months of 2020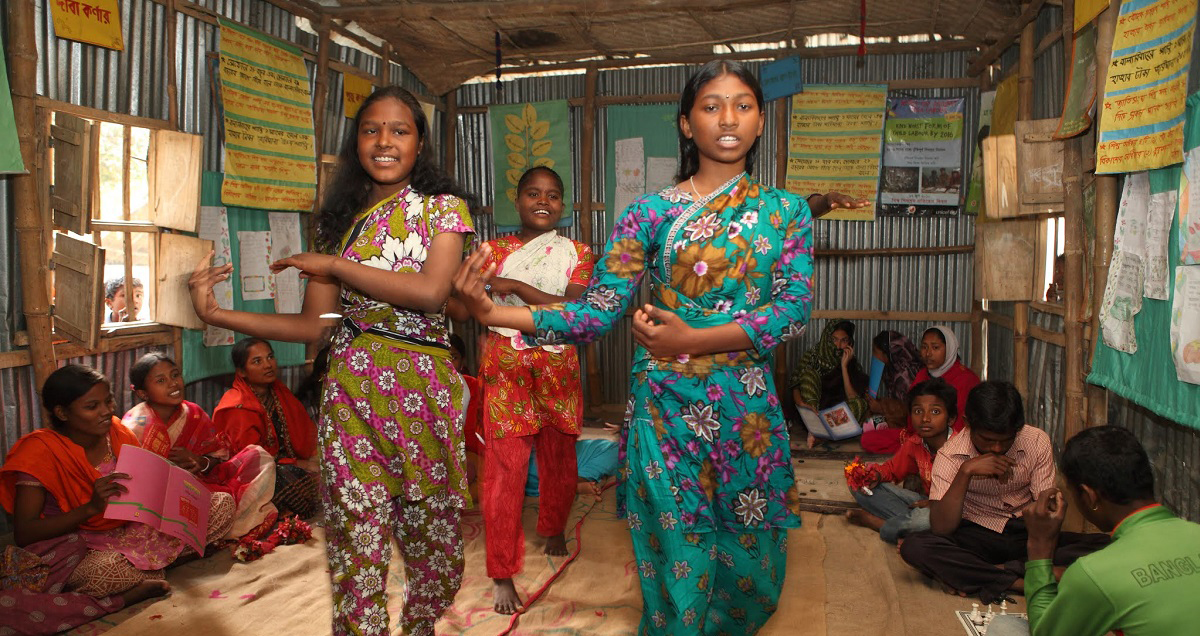 DHAKA, BANGLADESH — BRAC today released new data revealing the increased pressure on teenage girls in Bangladesh to submit to child marriage amid the COVID-19 pandemic. The data reveals the number of child marriages prevented by Polli Shomaj, the community-based women's groups that are active in 54 out of 64 districts in Bangladesh. Among other activities, Polli Shomaj work to stop child marriages and other forms of violence, and help women access community and government resources. The data is released today, as the world celebrates International Day of the Girl.
The data reveals an 84 percent increase in the number of child marriages prevented in the first nine months of 2020, compared to the first nine months of 2019. In the third quarter of 2020, with the COVID-19 pandemic widespread, the number of child marriages prevented grew by 219 percent, compared to the third quarter of 2019. The increase in child marriages prevented grew by 571 percent from the first quarter of 2020 to the third quarter of 2020.
The quarterly comparisons are as follows:
| | | |
| --- | --- | --- |
| Months | Number of Child Marriages that Polli Shomaj Prevented in 2019 | Number of Child Marriages that Polli Shomaj Prevented in 2020 |
| January- March | 96 | 79 |
| April-June | 109 | 74 |
| July-September | 166 | 530 |
| Total | 371 | 683 |
BRAC's Community Empowerment Program reports that while 683 child marriages were prevented by Polli Shomaj, a total of 778 child marriages were still reported between January and September 22, 2020. In 2019, 371 were prevented by Polli Shomaj, and 460 were reported. This is a rise of 84 percent in prevented cases and 69 percent in reported ones.
The number of child marriages prevented is a key indicator, because it reflects awareness by Polli Shomaj of local incidents and trends. The women in Polli Shomaj are well connected in their communities and understand the pressures that girls and families are under.
"These numbers are of enormous concern. This is just a glimpse of the social disruption that COVID-19 has brought on. An immediate concerted effort on socioeconomic recovery by public, private, and social sectors is critical to prevent child marriage; otherwise, we will fall behind on the progress we have made so far on achieving the Sustainable Development Goals," said Asif Saleh, Executive Director of BRAC Bangladesh.
Among the factors that Polli Shomaj cite as contributing to the growing attempts at child marriage are a range of social conditions enhanced by COVID-19. They include increasing job losses and poverty; growing food insecurity; the closing of schools, which reduces options for girls and increases the likelihood that they will not return to school; social distancing, which makes it easier to keep knowledge of child marriages from other members of the community; the reduced cost of a wedding, because large gatherings are not allowed; closed government offices, which makes it hard to check birth certificates; distraction of local government officials by the pandemic and efforts to reduce it; and the return of men who made money at overseas jobs. The range of these factors underscores the difficulty of combatting child marriage amid a pandemic.
According to the United Nations Population Fund's recently released State of the World Population report, COVID-19 may exacerbate the already concerning numbers around early marriage, violence, and sex ratio at birth. Its recent projections estimate that COVID-19 will disrupt efforts to end child marriage, potentially resulting in an additional 13 million child marriages taking place between 2020 and 2030 that could otherwise have been averted.
Notes to the editor
About BRAC
BRAC is a global leader in developing and implementing cost-effective, evidence-based programs to assist the most marginalized people in extremely poor, conflict-prone, and post-disaster settings. These include initiatives in education, healthcare, microfinance, women and girls' empowerment, agriculture, human and legal rights, and more. BRAC's vision is a world free from all forms of exploitation and discrimination where everyone has the opportunity to realize their potential. In 2020, BRAC was named the number one NGO in the world by NGO Advisor for the fifth consecutive year. Founded in Bangladesh in 1972, BRAC currently operates in 11 countries in Asia and Africa, touching the lives of over 100 million people.
About BRAC USA
Based in New York, BRAC USA is the North American affiliate of BRAC. BRAC USA provides comprehensive support to BRAC around the world by raising awareness about its work to empower people living in poverty and mobilizing resources to support its programs. BRAC USA also works closely with its international counterparts to design and implement cost-effective and evidence-based poverty innovations worldwide. BRAC USA is an independent 501(c)(3) organization.
Media contact
BRAC USA
Sarah Allen
[email protected]