October 26, 2023
Poverty is Not Destiny series | Stitching a new future: Adama's story
"For the first time in my life, I am not just living day to day; I am learning skills to build a career." Learn how Adama, a young mother in Sierra Leone, is building a career as a seamstress and forging a new future for herself and her son.

BY SARAH ALLEN
Adama grew up in Kendeyama, a village in Sierra Leone, with her father and five siblings. Her mother had left when she was very young, and her father worked hard all day in the fields growing, harvesting and selling crops to support their family. Adama dropped out of school at a young age, unable to afford the fees and feeling the need to help support her family on the farm.
At 19 years old, Adama found out she was pregnant. 
"It was the beginning of the darkest time in my life," she shared. "The man responsible abandoned me and denied he was the father. People in the community spoke badly of me, and my friends were warned not to associate with a single mother."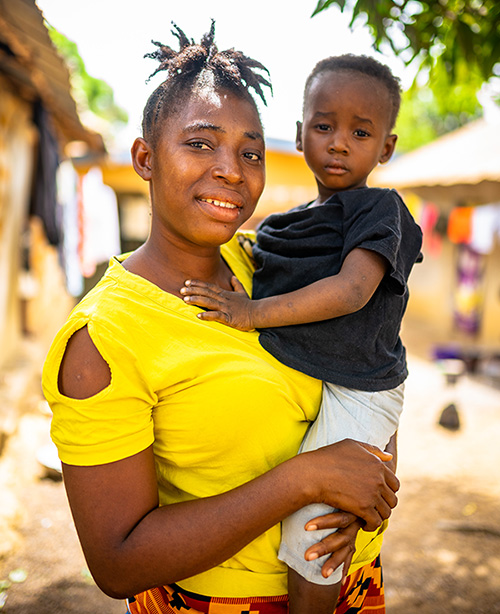 Luckily, Adama's father stood by her and helped support her financially. With the little money he could provide, they managed to afford food and medical expenses during her pregnancy.
But when Adama's son, Ibrahim, was born, she needed to support him. Having dropped out of school at a young age, she didn't have any skills. She went door to door in her community looking for customers who might need cleaning or laundry services, and made a tiny bit of money to cover food. But she still couldn't cover the essentials for her baby: She had to tear up old clothes to make diapers.
With limited opportunities in her village, Adama's financial situation quickly devolved. She took a leap of faith and used the last of her money to move to Bo Tow, where she could live with her elder brother and his family and start a new life.
In 2019, she enrolled in a BRAC girls empowerment club in her new community. 
"I fell in love with the program and the clubhouse it was run in. When I returned home after the first day, I described every detail to everyone – this wonderful place where young women came together to sing, dance, and share their stories. I had no idea there were so many other women in situations like me."
At her local clubhouse, Adama spent an hour or two each day with 30 other young women like her who live in her community. Their friendly and sincere peer mentor, Emma, led daily sessions and activities to build confidence and community.
"Each day has its own energy. Some days we have discussions, covering life skills such as financial literacy, confidence or menstrual hygiene. Other days we play volleyball or go running together," Adama shared. "My favorite sessions are the ones that involve music and dancing – these sessions push me to do things that I would have been shy about in the past."
Adama described the club house as a supportive space and found it easy to make friends with the other young women since they had faced so many similar experiences. She even met her best friend, Aminata, in the club house.
"Finding this new family has been the most exciting adventure for me. It is a safe space free from any form of judgement or discrimination, where I can talk about my experiences and struggles."
Not only is Adama building confidence and making friends, but she is also learning how to read and write. At 24 years old, she has just learned to read and write her name, recognize short words, and has started putting together short sentences.
Adama's club house also offered job training to start a new career, providing several options of career paths that the young women could learn. Adama opted to train as a seamstress at a local training center. 
"For the first time in my life, I am not just living day to day, but I am learning skills to build a career. I aspire to make it big in Bo Town. I want to become a professional seamstress and have my own shop," Adama expressed. "At present, I am a practicing seamstress. There is a beautiful seamstress in my area that I admire named Musu, to whom everyone goes to have their dresses made. She is hardworking and fun to be around. I want to be like her one day."
Adama sees her new career as a seamstress as a path to financial freedom and independence, not only for herself, but for her son, Ibrahim. 
"My son is growing into a wonderful child. I want him to go to school and decide his own future, Adama shared. "I am proud that I am a bolder and more positive mother now, who can read and write and talk to others, and I know that I will find a way to continue to improve our lives."
This month, we encourage you to take poverty personally. In honor of End Poverty Day on October 17th, every gift made during the month of October will be matched. When you donate, you forge better futures for women and girls like Adama who are experiencing extreme poverty. Learn how you can donate your morning cup of coffee and create a ripple effect for families living in poverty.
Sarah Allen is a Communications Manager at BRAC USA.