July 27, 2020
BRAC addresses devastation from Cyclone Amphan amid COVID-19 in Bangladesh
Response and recovery efforts supported by $300,000 grant from the Bill & Melinda Gates Foundation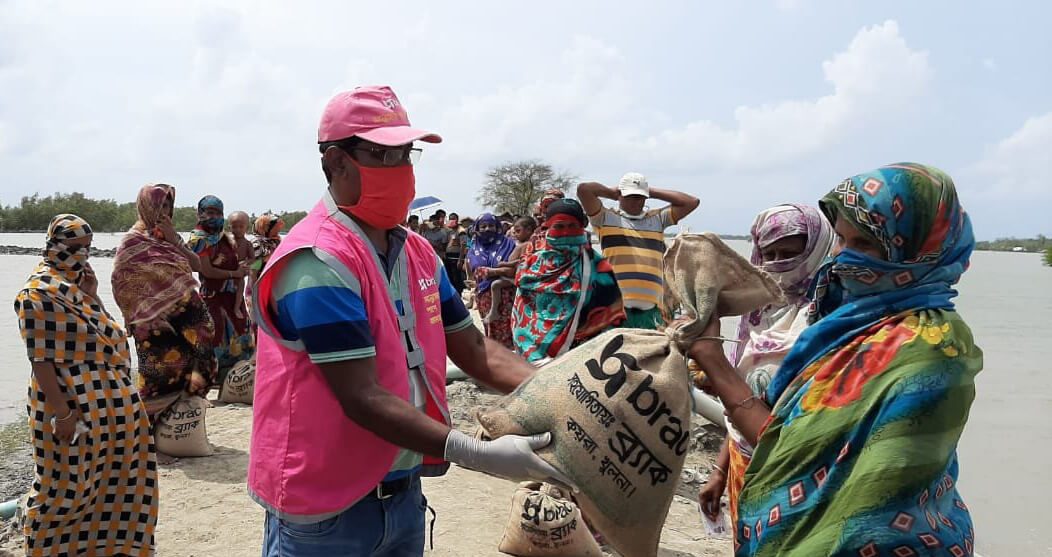 DHAKA, BANGLADESH — In the aftermath of Cyclone Amphan, the super cyclonic storm that devastated coastal communities in Bangladesh in late May, BRAC has been carrying out response and recovery efforts, made more complex by the COVID-19 pandemic. With more than 200,000 homes reportedly destroyed or damaged, families sought refuge in neighboring homes and shelters, increasing the chance of contracting COVID-19 in the absence of social distancing.
BRAC has quickly started to provide multi-purpose conditional cash support (repairing of houses and latrines, and installation of tippy taps) to 4,600 cyclone-affected households to enable families to return to their own homes in 10 sub-districts in the districts of Satkhira, Khulna and Bagerhat. The cash assistance of approximately $60 per household is being provided by mobile money transfers in two installments. Training is also being provided to residents to install hand washing stations through demonstration efforts, maintaining social distance, so they can wash their hands safely and reduce the risk of COVID-19 spread.
Without access to clean water, it is difficult to maintain basic hygiene practices to prevent contraction of COVID-19 and diarrhea. Awareness messages on basic hygiene practices and COVID-19 infection prevention and control are being disseminated by BRAC staff, who are trained on COVID-19 prevention practices.
BRAC's emergency response is supported by a $300,000 grant from the Bill & Melinda Gates Foundation. The grant funded relief and recovery efforts to people suffering the impact of Amphan in Bangladesh.
BRAC's disaster response efforts in Bangladesh have benefited from funding by the Bill & Melinda Gates Foundation several times in the last 13 years, starting with Cyclone Sidr in 2007. Most recently, the foundation provided a grant of $300,000 last year for flood relief.
"BRAC has always looked to the Bill & Melinda Gates Foundation as a key partner in our effort to provide life-saving services to the most vulnerable people, especially during humanitarian crises," said Asif Saleh, Executive Director of BRAC. "This support was no exception. It allowed us to mobilize resources quickly, during the COVID-19 pandemic, to provide much-needed cash support to the families most affected by Cyclone Amphan so they can get back on their feet."
Notes to the editor
About BRAC
BRAC is a global leader in developing and implementing cost-effective, evidence-based programs to assist the most marginalized people in extremely poor, conflict-prone, and post-disaster settings. These include initiatives in education, healthcare, microfinance, women and girls' empowerment, agriculture, human and legal rights, and more. BRAC's vision is a world free from all forms of exploitation and discrimination where everyone has the opportunity to realize their potential. In 2020, BRAC was named the number one NGO in the world by NGO Advisor for the fifth consecutive year. Founded in Bangladesh in 1972, BRAC currently operates in 11 countries in Asia and Africa, touching the lives of over 100 million people.
About BRAC USA
Based in New York, BRAC USA is the North American affiliate of BRAC. BRAC USA provides comprehensive support to BRAC around the world by raising awareness about its work to empower people living in poverty and mobilizing resources to support its programs. BRAC USA also works closely with its international counterparts to design and implement cost-effective and evidence-based poverty innovations worldwide. BRAC USA is an independent 501(c)(3) organization.
Media contact
BRAC USA
Sarah Allen
[email protected]