October 17, 2020
Remembering Sir Fazle Hasan Abed
Sir Fazle Hasan Abed, BRAC Founder, passed away in December 2019. Here, Abed's friends and admirers reflect on his life and legacy.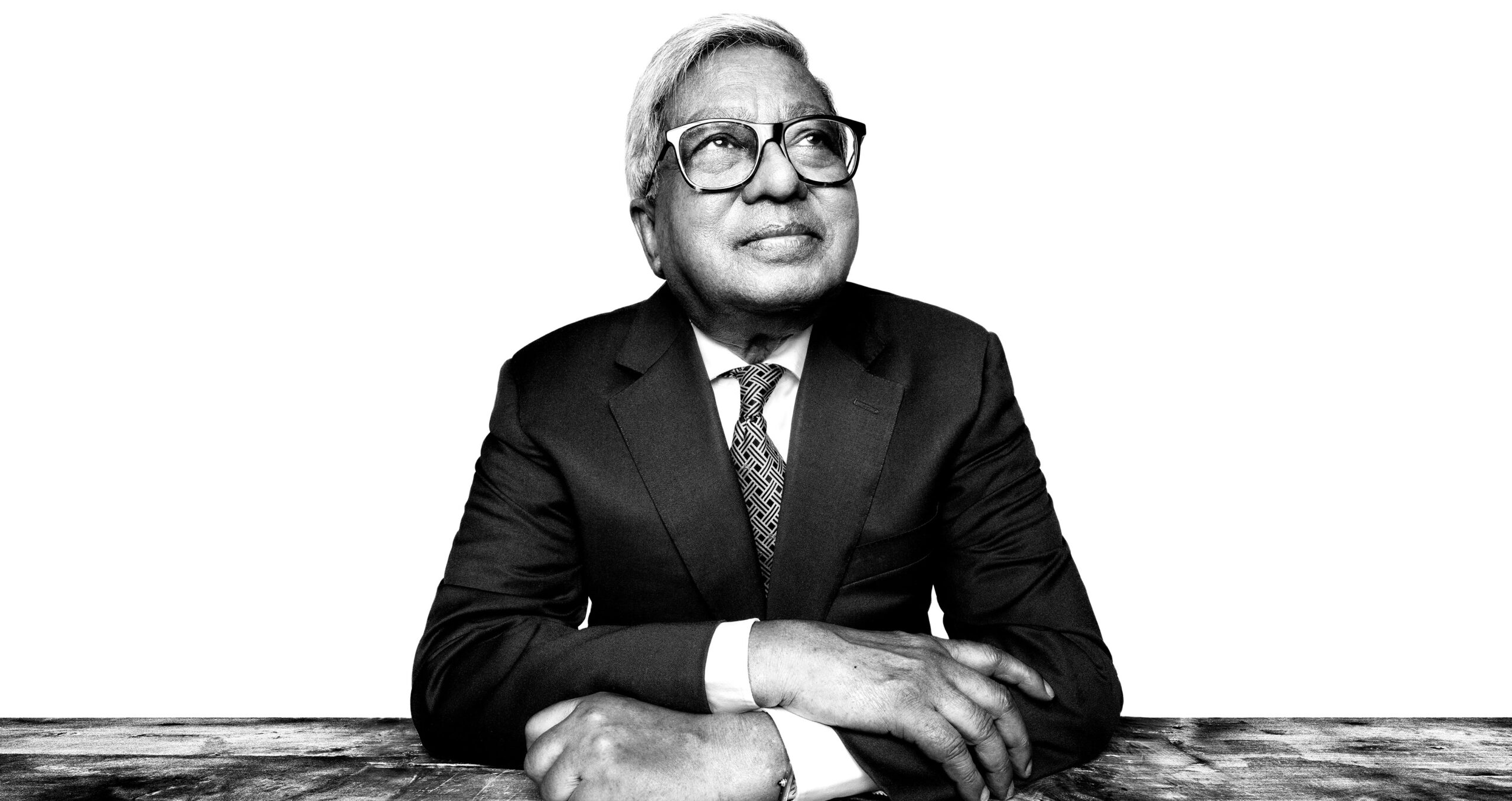 Sir Fazle Hasan Abed, the beloved founder of BRAC, passed away on December 20, 2019. An icon of international development and pivotal figure in Bangladesh, Sir Fazle pioneered innovations in the sector that changed the course of a country and reverberated around the globe. His belief in the dignity and value of every human being, especially the poorest, has defined the ethos of the organization since he founded it.
Born in 1936, in the Sylhet region of British India, now Bangladesh, Sir Fazle grew up with significant privilege. After studying accounting in London, he went to work as an executive at Shell Oil, where he quickly rose to head its finance division. He would later say his experience at Shell taught him how to run large operations effectively and efficiently.
In the early 1970s, a devastating cyclone and the Bangladesh Liberation War ravaged his home country, dramatically altering the course of his life. Sir Fazle left his job and founded a small relief effort. After the war was over, he returned to a newly-sovereign Bangladesh. He founded BRAC to provide support for the 10 million refugees who had sheltered abroad during the war.
From the earliest days of BRAC to the global organization we know today, Sir Fazle was renowned for his famously dogged work ethic, keen eye for detail, and data-driven approach. Cited by Bill Clinton, Bill and Melinda Gates, the editors of The Economist, and many others for his extraordinary influence on global development, Sir Fazle avoided self-promotion, believing that BRAC's work should speak for itself.
The organization he created and led for most of his life had historic impact, especially in his native Bangladesh, helping that country rise from the ranks of one of the poorest nations on earth to a lower-middle-income country and a model for successful development. Today, his remarkable legacy persists in the hundreds of millions of people around the world whose lives he bettered.
On my dear friend Abed
"Abed was one of the foremost leaders of thought as well as action of our time… An astonishing combination of clear-headed thinking and sure-footed execution made Abed the great leader that he was. We have had very few like him in the history of the world."
Amartya Sen, Nobel Laureate in Economics
He was a great gift to humanity
"Sir Fazle Abed's life was a great gift to humanity. His nearly 50 years of visionary leadership at BRAC transformed millions of lives in Bangladesh and beyond, and changed the way the world thinks about development. Driven by an unwavering belief in the inherent dignity of all people, he empowered those in extreme poverty to build better futures for themselves and their families… His legacy will live on in all the people whose lives are better, healthier and more secure because of his remarkable service."
Bill Clinton, 42nd President of the United States and Founder and Chair, Clinton Foundation
We will forever draw inspiration from his work
"In 1972, after Bangladesh's war of liberation had left many homeless, Fazle Abed left his job as a London oil executive and returned to his home country with £16,000 in his pocket — and the ambitious goal of building 10,400 houses. He ended up raising enough money to build 16,000 houses for some of the poorest people in Bangladesh and still had enough left over to start his next project. That's who Sir Fazle was as a humanitarian, and that's what he helped us learn about development work: How to build a big, efficient organization, while never forgetting who you were doing it for. We were saddened to hear of his passing and will forever draw inspiration from his work, as will the rest of the world, which he left so much better than he found."
Bill and Melinda Gates, Co-Chairs, Bill & Melinda Gates Foundation
His life is a lesson for us
"The scale and impact of what he has done, and yet the utter humility with which he has done everything, is a lesson for every single one of us."
Jim Yong Kim, Former President, World Bank
One of the heroes of modern times
"I can think of few people who have done so much for humanity as Abed. He was a friend and someone I deeply admired and learned from: While US aid efforts in Afghanistan often flopped, his succeeded. Reflecting his humility, no one called him Sir Fazle. He was simply Abed."
Nicholas Kristof, New York Times Columnist
We will never forget the example he set
"Over the course of three decades, under Sir Fazle's inspiring leadership, the humanitarian organization he founded, BRAC, has become one of the world's leading development organizations. From its humble beginnings in Bangladesh – the country he loved so well – to its expansion to 10 countries across Asia and Africa, BRAC has stood as an inspiring example of how we can gather people together in common cause to improve the lives of the most vulnerable… All of us at UNICEF will miss his ideas and advice. We will never forget the example he set."
Henrietta Fore, Executive Director, UNICEF
My deepest condolences
"The hundreds of millions of lives he transformed will remember him as the spark of hope, especially by those from the most vulnerable and poorest communities now enriched by new possibilities. "
Dr. Charles Chen Yidan, Founder, Yidan Prize Foundation