September 17, 2023
Silatech and BRAC partner to promote self-employment through financial inclusion for 684,000 youth in Bangladesh
Silatech has announced a partnership with BRAC to unlock access to finance for hundreds of thousands of young people and promote youth self-employment.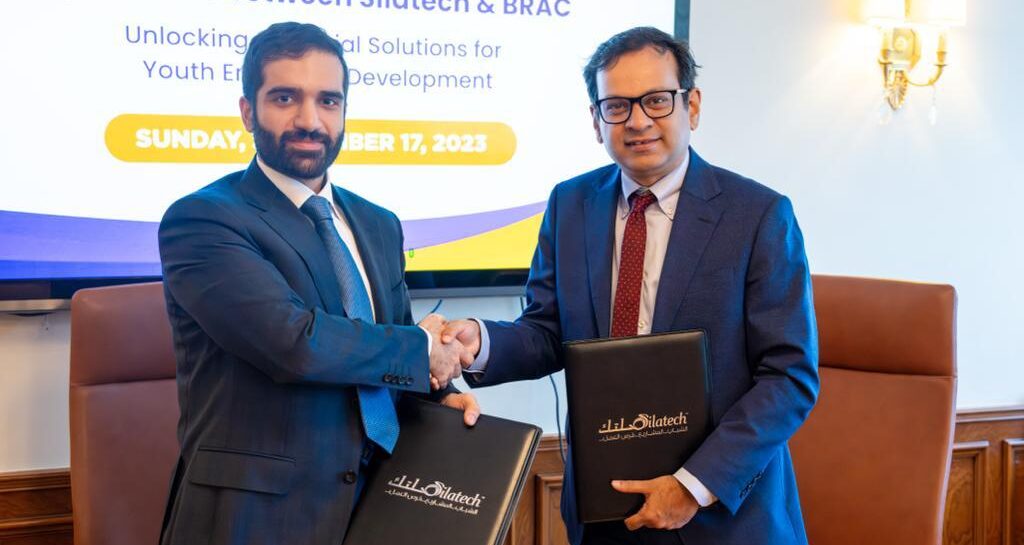 NEW YORK, NY – Silatech has announced a partnership with BRAC, the world's largest development organization, to promote youth income generation through financial inclusion and unlock access to finance for 684,212 youth in Bangladesh to become self-employed.
The project, Unlocking Financial Solutions for Youth Enterprise Development, was signed on the sidelines of the 78th edition of the United Nations General Assembly in New York today. It aims to address the lack of access to traditional financing resources for the youth of Bangladesh who seek to sustain, start, or expand their income-generating ventures.
Over the course of three years, the project will provide financing products to young people who do not have access to traditional banking services. Moreover, it will offer financial literacy and entrepreneurial training program to enhance the sustainability of their ventures and improve the financial literacy and capabilities of youth entrepreneurs.
The lack of access to formal financing is a significant challenge for small and medium enterprises in Bangladesh, with the World Bank estimating a financing gap of $2.8 billion. This gap is particularly pronounced for women-led small businesses, as 60 percent of them lack collateral.
The COVID-19 pandemic has further exacerbated these challenges, leading to reduced income, job loss, and limited financial access for youth. The project seeks to bridge this financial gap and create meaningful economic opportunities for young people and their families.
"By promoting youth income generation through financial inclusion and empowering Bangladesh's youth, we are confident that this project will significantly improve their livelihoods, create more employment opportunities within their ventures, and drive sustainable economic growth. Bangladesh has a huge youth population with few opportunities as it is the densest country in the world, and we are excited to partner with BRAC, the world's largest development organization, to help reduce the suffering of many youth due to lack of access to financial solutions," said Hassan Al Mulla, CEO of Silatech.
"BRAC believes in power of youth to drive economic growth," said Asif Saleh, Executive Director of BRAC. "We are extending microfinance services and combining it with financial literacy and entrepreneurship training to young entrepreneurs from marginalized backgrounds. Our client-centric approach ensures tailored financial products, while mentorship and capacity building will help the young entrepreneurs fuel the growth of their businesses. We are excited to be partnering with Silatech in testing this innovative model to support young entrepreneurs in Bangladesh. This will help us not only to design more effective products, but also to understand and manage risks better."
This partnership marks an important step towards youth economic empowerment and creating a more equitable and prosperous future for disadvantaged communities.
Notes to the editor
About BRAC
BRAC is a global leader in developing and implementing cost-effective, evidence-based programs to empower the most marginalized people in extremely poor, conflict-prone, and post-disaster settings. Founded in Bangladesh in 1972, BRAC now touches the lives of more than 100 million people across 11 countries in Asia and Africa. BRAC takes a holistic approach to alleviating poverty, running programs in education, health care, financial inclusion, youth empowerment, agriculture, and more. In 2022, it was ranked the top NGO in the world by NGO Advisor for the seventh consecutive time.
About BRAC USA
Based in New York, BRAC USA is the North American affiliate of BRAC. BRAC USA provides comprehensive support to BRAC around the world by raising awareness about its work to empower people living in poverty and mobilizing resources to support its programs. BRAC USA also works closely with its international counterparts to design and implement cost-effective and evidence-based poverty innovations worldwide. BRAC USA is an independent 501(c)(3) organization.
Media contact
BRAC USA
Sarah Allen, Communications Manager
[email protected]