May 03, 2022
Spark MOMentum: Invest in moms
On Mother's Day this year, show your love with more than flowers.

BY ELIZABETH WRIGHT
Motherhood has many faces. As we celebrate Mother's Day on May 8th, we recognize all those who take on "mothering" roles in their families and communities worldwide.
Today, we honor all the caregivers who not only keep their children healthy, fed, and safe—but also inspire them to finish school and achieve their dreams.
Moms: The original essential workers
In vulnerable communities, caregivers are the first responders when their children show signs of illness. They make sure young children get the proper food, care, protection, and education they need to be safe and thrive.
But that's not all that moms and caregivers do. They are also the world's true "essential workers," running small businesses, cultivating farms, raising livestock, and pursuing other livelihoods outside the home, while also doing household chores, childcare, and acting as the main caregivers for their families. Worldwide, women do three times as much unpaid care work as men.
Mothers work on the front lines at home and in the workplace to improve the lives of their families ― and communities.
Data shows that as a woman's income increases, the whole family benefits. Moms use more of their earnings (and time) to promote good nutrition, health, and well-being for their families. But they also pay a price. Their time spent doing "unpaid work" means they miss out on opportunities to rise above poverty through education, paid work with decent benefits, and other support.
While moms everywhere are working hard to care for others, let's step up to show them how much we care for them.
One small act of kindness can transform a life, as Jestina's story proves.
On Mother's Day, let's show our love for moms like Jestina by giving more than flowers. Help us spark MOMentum by investing in moms everywhere.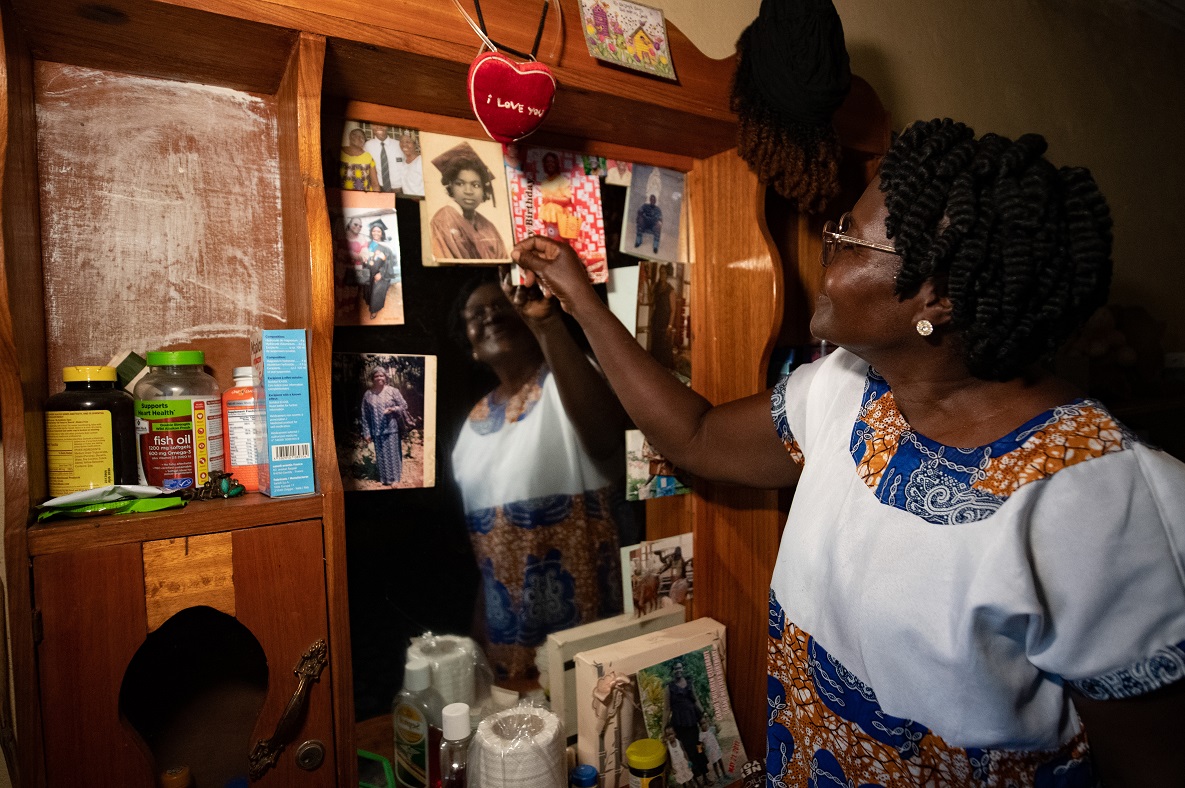 Photo by Alison Wright, Liberia, 2022
Meet Jestina: mom, entrepreneur, changemaker
Jestina has an uncanny knack for remembering dates, and spreads a stack of photos across her bed, unfurling a litany of remembrances and the exact chronological timeline of each major event in her life. Her vanity mirror is covered in photos, including a black and white graduation photo in her cap and gown next to a faded color image of her own daughters' graduation. Her children and grandchildren are obviously her greatest pride and joy.
She was born in Bong County, Liberia and moved to Kakata, Liberia in 1979 for school when she was in the 10th grade. She later attended university and studied agriculture and animal husbandry. Coming from a family of nine with a poor background, she was the only one  in her family to finish school.
Jestina married her husband on January 11, 1985 at age 27, an older man from Zimbabwe who helped pay for her higher education. They had three children together, a son, 36, who works as an economist; a daughter, 41, who works as a journalist; and another daughter, 40, who works in ophthalmology. "She got me these glasses," she said as she proudly showed them off. Jestina also now has three granddaughters.
Jestina built her current home with her husband, but he has since passed away. After being widowed, she focused on growing her small pig farm to earn income to help support the fourteen family members in her home that depend on her. While her children are independent, several of her siblings, nieces and nephews, and grand-nieces and -nephews live at her home and help her with her pigs.
"I started out with 31 pigs. Then I connected with the BRAC program. They gave me three pigs for breeding and trained me how to do better pig farming. They taught me how to breed and observe heat times. I was trained how to feed the pigs regularly, treat for worms and diseases, use medication, avoid skin rashes, and clip their teeth. If you know all that, you will be successful in raising pigs." Now, she breeds and sells about 85 pigs per year.
Jestina was also a member of BRAC's agrifinance pilot, receiving access to financial training and loans tailored for farmers. She credits her loan for helping to rapidly grow her pig breeding business in the past year.
In addition to helping support many of her family members, Jestina has also put her increased income to good use to help her community. In 2020, she started a nursery school that currently serves about 70 students. She hopes to grow the school, and its success brings her great joy, as education was so important to her life and the lives of her children.
Your gift makes an impact