September 15, 2021
Unlocking the future: Young people fighting without fear for a more inclusive world
We spoke to two UN Next Generation Fellows about their work to advocate for youth in their communities—and beyond—and their dreams for the future.

BY SARAH ALLEN
Last week, United Nations Secretary-General Antonio Guterres put forward Our Common Agenda, an ambitious call for the global community to unite and collaborate amid a time of crisis to achieve the Global Goals. The Next Generation Fellows, a global group of young activists nominated by the United Nations and partners, have launched a companion report, Our Future Agenda, outlining an urgent set of priorities to ensure youth are not left behind.
We spoke to two of the Next Generation Fellows, Amélie C.J. Mariage, founder of a nonprofit focused on inclusive education (above at right), and Agnes Cynthia Amoding, a former Mastercard Foundation Scholar and the founder of a nonprofit focused on youth empowerment (above at left). They shared insights about their work, their experiences as young people, and their thoughts about the future.
To get involved and learn more, join BRAC, the Fellows, and other high-profile youth activists at Unlock the Future on Wednesday, September 22nd, alongside the United Nations General Assembly. Learn more and RSVP here.
How are you involved in your community? What do you do to make your local or global community a better place?
Amélie C.J. Mariage: I founded Aprendices Visuales, along with Miriam Reyes Oliva, eight years ago, after our little cousin was diagnosed with autism. With him, we quickly discovered that tremendous gains have been made in education, but much more can still be done, especially in terms of breaking barriers to access inclusive education.
What started as a very small and personal project is today a global community. We never imagined that the project would one day reach more than a million children worldwide. At the heart of the project is a community of 34,000 families, experts, professionals, and teachers from across the world working on inclusion and educational issues. They join the community via our online platform, which fosters lasting connections, nurtures inclusion, and enables learning with the goal of designing a new inclusive model for education. We then provide members with ongoing activities and campaigns, so that they can create, sustain, and scale positive impact.
Agnes Cynthia Amoding: Within my local community in Uganda, I have championed several community give-back activities, such as an ongoing COVID Relief Pads Campaign, which has the target to fundraise and donate at least 2,000 reusable sanitary pads to economically disadvantaged young girls in Northern and Eastern Uganda who are suffering from period poverty. In addition, my team of fellow young people and I are teaching these girls how to make reusable pads from locally available materials. I also championed the End Teenage Pregnancy campaign, a 30-day campaign under The Gal Hub Initiative aimed at keeping girls in school.
I am a Founder and Director of a youth-led organization called Focus On The African Child, which empowers young people in Africa through leadership, economic empowerment, and education. As the current Deputy Chairperson, I also partake in several activities with Mastercard Foundation Scholars Alumni, an organization uniting all 5,000 alumni of the Mastercard Foundation Scholars program in partnership with BRAC Uganda.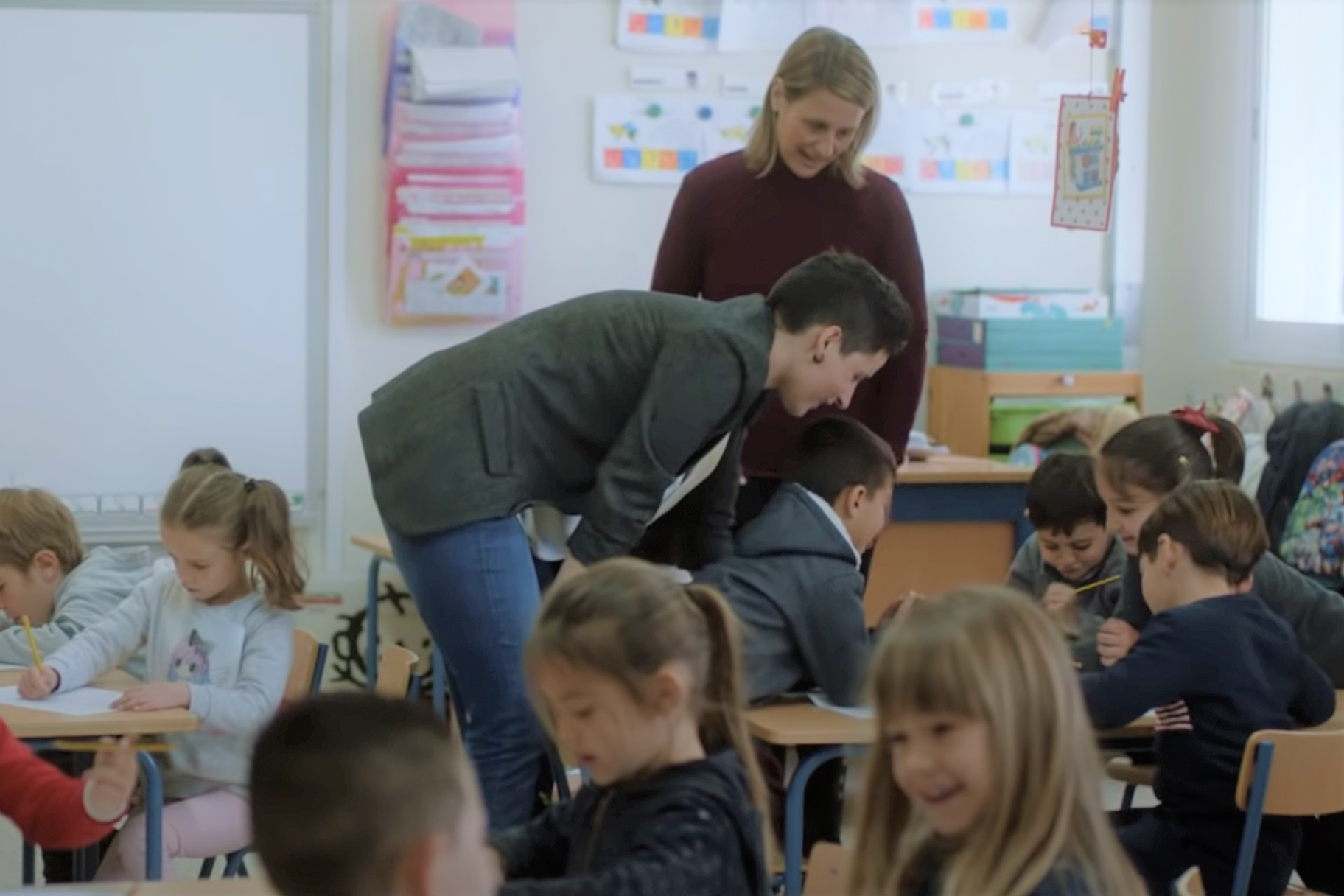 Amélie visits a classroom for her nonprofit, Aprendices Visuales.
What issues facing your community or the world are you most passionate about and why?
Amélie: I'm passionate about how technology can fuel social change. For nearly ten years, I have advocated for breaking barriers for children to access inclusive education, so today, I want to talk about education and young people.

Cynthia: I am most passionate about issues of gender equality and poverty. Women in my community are often marginalized and denied opportunities simply because they are women, to the extent that they are victims of gender-based violence. Worst of all, due to poverty, many of them cannot even report cases of gender-based violence to police to receive help because the perpetrators of this kind of violence are often the ones providing them with a livelihood or economic support. For fear of losing this support, they often choose to suffer in silence. If women were economically advantaged, they might not choose to suffer in silence and instead speak up.
In your opinion, what is the most important issue young people are facing now? How should we act on it?
Amélie: Today's young people are forced to confront crises that we did not cause. It is no wonder that we fear for our futures, and for others. We will continue to fight without fear for a more just, inclusive, resilient, and sustainable world.
Education is one of the biggest issues affecting young people today! We have been clear about this in Our Future Agenda. We need to include young people, not just as an afterthought or as superficial participants, to decide about their future. I think the future of education is today, and it is time to reimagine it: both to repair the damage done by the pandemic and to end the learning crisis.

Cynthia: Joblessness and unemployment are one of the key issues facing young people today. Many young people are jobless irrespective of the fact that they have attained employable skills. I think that boosting entrepreneurship training, mentorship, and access to finance so that young people can start their own enterprises would be of great impact.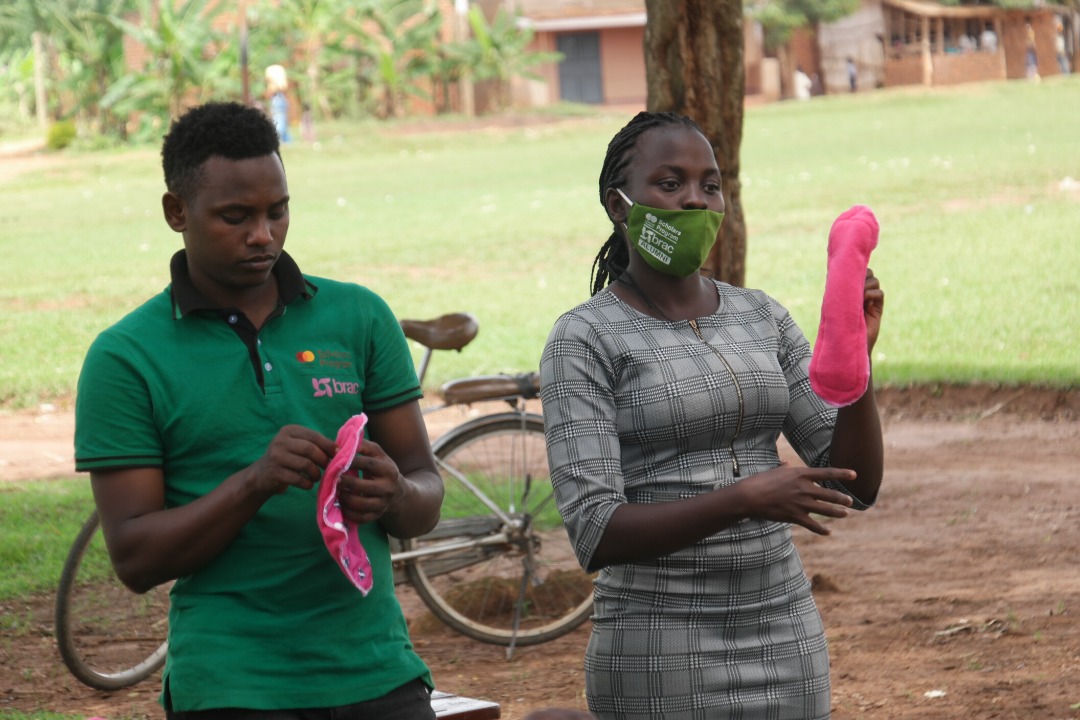 Cynthia works alongside a fellow Mastercard Foundation Scholar alum to distribute reusable sanitary pads to girls experiencing poverty in Uganda.
How did you become involved with BRAC? How has your experience with BRAC shaped your life, thinking, or involvement in your community?
Amélie: Although I have not been directly involved with BRAC, its mission of creating opportunities for people living in poverty to embrace their potential resonates with me. It is like joining a world community that fosters meaningful connections and enables collaboration to make an impact. As an anecdote, I feel very identified with the quote from BRAC's founder, Sir Fazle Hasan Abed: "Small is beautiful, scale is necessary."
Cynthia: I became involved with BRAC in 2015 after receiving a scholarship from the Mastercard Foundation Scholars Program at BRAC to complete my secondary education in Uganda. BRAC has exposed me to great mentorship, entrepreneurship training, leadership training, and opportunities that have enabled me to start a bakery and a mobile money business. It has also equipped me with the skills to take up leadership positions like the Guild Representative Councillor to represent students with disabilities at Makerere University, where I attend school, and Deputy Chairperson at the Mastercard Foundation Scholars Alumni. On a global level, BRAC exposed me to this great opportunity of becoming a Next Generation Fellow through the United Nations Foundation. Since becoming involved with BRAC, I am a more open-minded and transformational leader, embracing community service and volunteerism.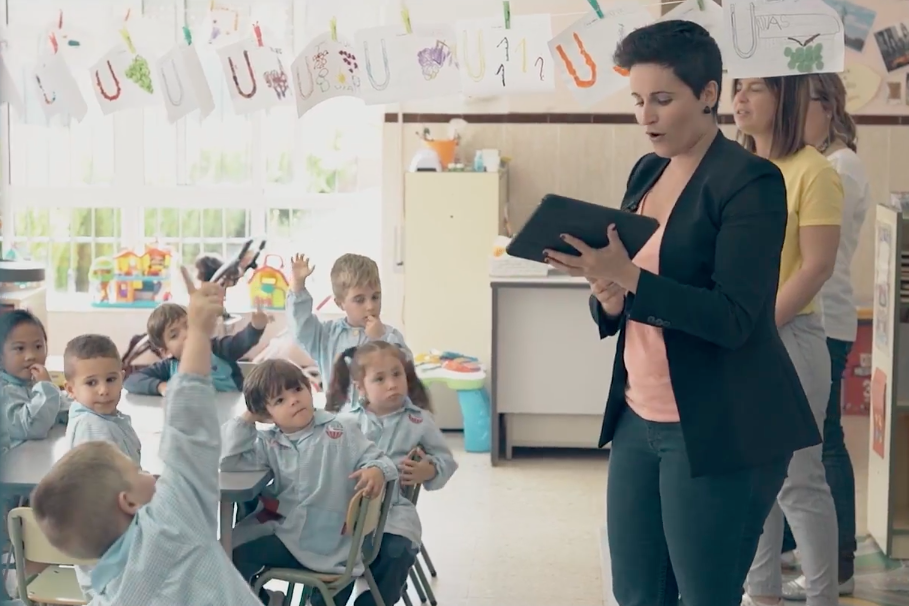 Amélie's nonprofit, Aprendices Visuales, uses technology to drive inclusion by teaching through visual learning.
How would you describe your experience as a Next Generation Fellow?
Amélie: There are no words that can reflect everything we have learned as Fellows, how we have involved ourselves, the connections and stories we have heard, or the hours of meetings to create a report that gives answers and reflects everyone's needs, is ambitious enough and is unafraid to come up with disruptive solutions.
I think it is the first time in my life that I have seen the world as so big and so much more diverse than I have ever seen it before. It is impressive and absolutely amazing to know that I have participated in a report that, for the first time, included in a groundbreaking way the vision of young people, full of our concerns and our desire to make our proposals real.
Cynthia: For a long time in history, the designers of the future of the young people have not been the young people. As a Next Generation Fellow, I saw a great opportunity to become an advocate for change for my fellow young people, and in particular, the marginalized and economically disadvantaged, at a global level with the United Nations.
I have learned to appreciate that we are in a global village, and most of the issues affecting young people in Uganda are not very different from those affecting other young people in other parts of the world, such as unemployment and under-representation at decision making tables. I had various opportunities to listen from many diverse perspectives from different dignitaries.

As a Fellow, I have learned how to mobilize fellow young people within my community to be the advocates and activists for the kind of change they want to see, as well as how to be aggressive and ambitious to take up leadership opportunities that can lead them to the table where the future is being designed.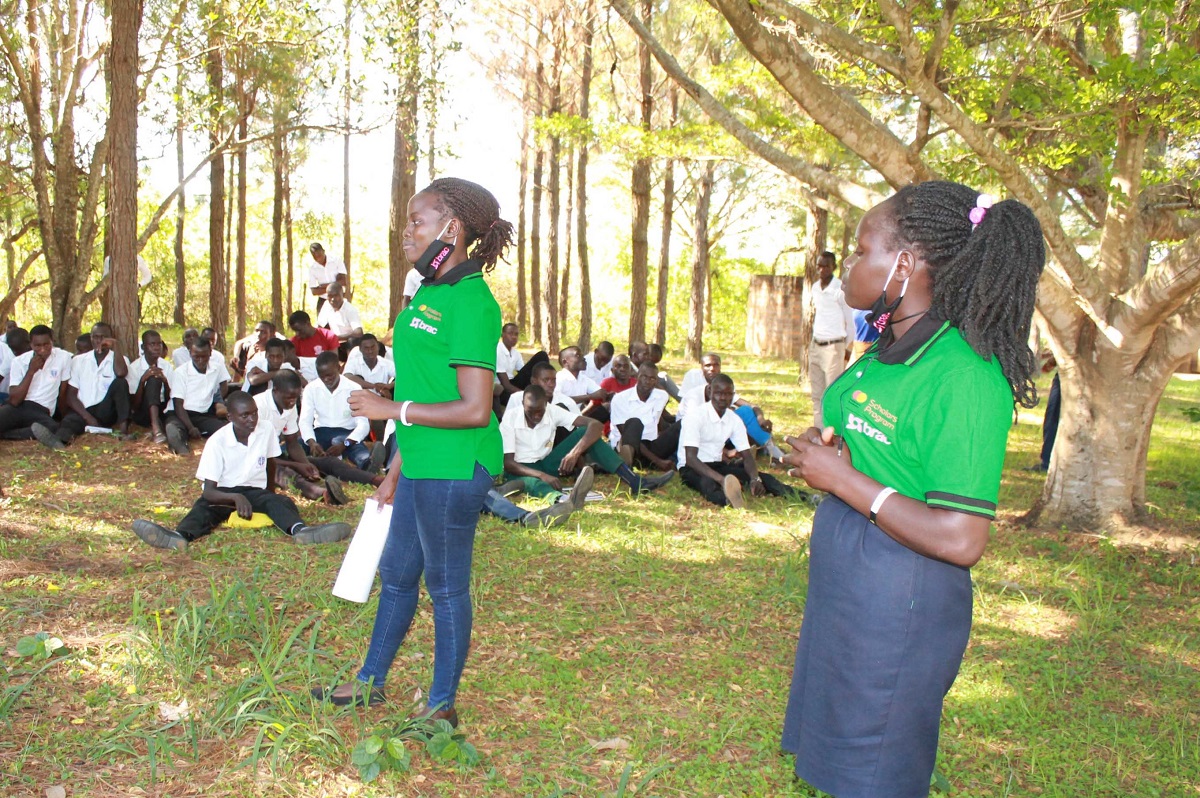 As Deputy Chairperson of the Mastercard Foundation Scholars Alumni group, Cynthia organizes and participates in community service and leadership activities alongside other former participants of the BRAC program.
What are your professional and personal goals for the future, and how have your recent experiences helped prepare you to reach them?
Amélie: I think my experience as a Next Generation Fellow has reinforced my idea that I want to "do," and I see that we can do even more. I think entrepreneurship has become a journey of no return and a life mission for me. It has also reinforced something that I already knew: There are thousands of young people who want to make things happen. Our generation has record-low levels of trust in media and in governments, but rather than simply complaining about these challenges, we are going out and focusing on action and building a better system.
Cynthia: As a lawyer in the making, I have been trained and mentored to be an advocate, policymaker, and social justice activist. While a Mastercard Foundation Scholar at BRAC and now as a Next Generation Fellow, my zeal and ambition to be a social justice activist has been ignited, and I look forward to being an advocate for positive change and equal justice irrespective of one's economic status, gender, race, or ethnicity because I am now very attuned to the social injustices existing within my community and around the globe.
What would you say to other young people who want to get involved in their communities?
Amélie: In a few words, sometimes getting involved in your community can be as simple as talking with people, raising your voice, sharing ideas, and starting to campaign and build projects that respond to real problems and needs that you identify with.
Cynthia: To get involved in their communities, young people should be open-minded and have a positive attitude towards volunteerism and service. There is a lot of positive change we need to create to transform our communities, and above all, volunteerism will make a big impact.
Read more: Learn more about how BRAC is supporting youth.
Sarah Allen is Communications Officer at BRAC USA.