April 07, 2021
World Health Day: An urgent wake-up call to invest in health care workers
April 7th marks World Health Day. It's time to invest in healthcare workers around the globe.

BY ELIZABETH WRIGHT
"Protecting myself means protecting my family and my patients. I do not forget these precautions—and I don't forget the impact of our work. If our center was closed, these women would not receive the care they need. They would not know if their babies were healthy." -Fatima, a midwife at a BRAC maternity center in Bangladesh
Over the past 100 years, the world has become a healthier place in some ways. We have developed vaccines; eliminated diseases; reduced the number of children who die of preventable causes by half; and dramatically reduced the number of women who die from causes related to pregnancy and childbirth.
But this progress has left some people behind: many communities still face health challenges that can be prevented and solved. 
The need for more equitable access to health care for all has perhaps never been so glaring. Without health workers, there are no health services. And the world is currently facing a severe shortage of 18 million of them, the World Health Organization (WHO) warns.
The need is most acute in low-income countries, but it's a threat to every nation.
Caring for those who care for us
Even before the COVID-19 pandemic, health systems suffered from chronic under-investment. When countries all over the world went into lockdowns and hospitals and clinics were overwhelmed with cases, health care systems in low- and high-income nations alike were not prepared for such a massive emergency, facing inadequate intensive care unit beds and insufficient supplies of ventilators and personal protective equipment.
COVID-19 has pushed health systems from the United States to South Africa to the breaking point, threatening already overstretched medical teams as the need for care surges.
According to the United Nations, meeting the goal of vaccinating 20 percent of the global population in 2021, approximately 1.5 billion people, will require about 1.1 million full-time-equivalent health care workers. But the supply of health workers falls far short of the demand, and the virus has infected large numbers of health workers worldwide.
What's more, during the COVID-19 pandemic, more than 100 countries have reported substantial disruptions of their routine, essential health services due to the need to deploy existing health staff to respond to the pandemic, insufficient supplies of protective equipment for health providers, and insufficient staffing.
All this is taking its toll on the well-being of workers. A recent WHO review among health professionals responding to COVID-19 indicated substantial physical and mental distress, with 23 percent experiencing anxiety and depression and 39 percent reporting insomnia.
This year, World Health Day is an urgent wake-up call for the world to support — and invest in — health workers.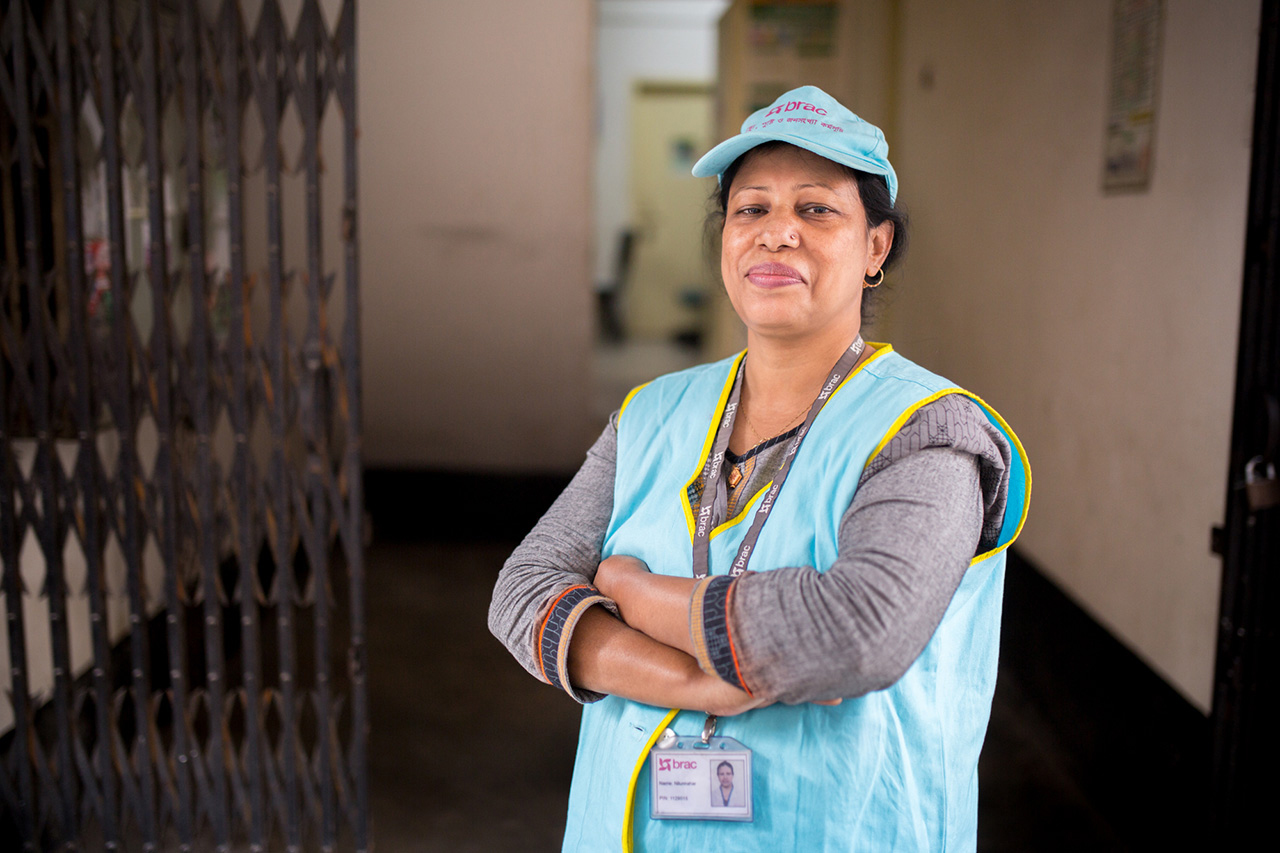 A BRAC community health worker who has been vaccinated for COVID-19
Rising to the challenge every day, in every crisis
Many of the world's poorest countries are addressing the severe health workforce shortage by partnering with nonprofit development organizations like BRAC to train community health workers to deliver primary health services  to the most vulnerable families—in their own homes. 
Community health workers help make essential health care accessible for all, especially people living in poverty. 
Community health workers are women drawn from the communities they serve that receive customized training to promote healthy behavior and prevent and treat illness in their communities. They often focus on maternal and child health, family planning, nutrition, routine immunizations, and infectious diseases, although their role varies depending on the needs of the local context. Because they are part of the communities they serve, community health workers are familiar with the local language and customs — and readily accepted  as trusted peers.
During the COVID-19 pandemic, community health workers have been instrumental in providing public health information and home-based care to the communities they serve. As the pandemic evolves, it's imperative for world leaders to recognize, support, and invest in the critical role of community health workers in building secure, resilient health systems for the future.
Hidden champions
Strengthening health systems is the best way to control the COVID-19 pandemic, prevent future pandemics, and reduce illness and death at all times. Community health workers are a critical part of these efforts, and must be recognized by national governments and integrated into their formal health systems.
Strong health systems pay dividends both during pandemics and in more "normal" times. And there may, of course, be future pandemics. Taking action now benefits everyone.
These "hidden champions" of public health have played an important role in significantly decreasing preventable deaths among pregnant women, nursing mothers, and children. They also helped to contain the West Africa Ebola epidemic that began in 2014 and subsequent outbreaks since. During the COVID-19 pandemic, they have played a critical role in preventing and controlling disease. 
With complex vaccine rollout plans on the horizon, there is more that they can do.
Especially in underserved communities and among people living in poverty, community health workers can be hugely valuable. But to best serve their communities, they must be safe and supported. Integrating community health workers into formal health systems and providing them with adequate training, support, supervision, and logistics is essential to recognizing their contribution and ensuring their ongoing success.
"I can see light at the end of the tunnel"

In Korail, Bangladesh's biggest slum, Ruma (right) is one of 70 community health workers trained by BRAC to prevent the spread of COVID-19. She recently received the COVID-19 vaccine, and now she joins 15,000 other BRAC community health workers across Bangladesh who have been vaccinated. 
All 50,000 of the community health workers BRAC employs in Bangladesh are scheduled to receive vaccinations imminently—with a large number already vaccinated—so that they can continue providing care while staying safe.

"I will inform others to get vaccinated, too," Ruma told us. "I feel a lot safer carrying out my work after receiving it. I am still taking precautions, but I can see light at the end of the tunnel now."

Today and every day, BRAC is committed to answering the call to prioritize frontline health workers like Fatima and Ruma to improve health and well-being for underserved people living in poverty.
Be a force for hope: Support our work because everyone deserves access to health care.
Editor's note: This article was developed with guidance and insights from Dr. Adam Schwartz, Director of Health Programs at BRAC USA, Attending Primary Care Physician at Bellevue Hospital Center, and Assistant Professor at NYU School of Medicine.