August 19, 2021
World Humanitarian Day: A tribute to community health workers
On World Humanitarian Day, we pay special tribute to the indispensable, unsung heroes of community health.

By BRAC USA
On World Humanitarian Day, the United Nations states, "the world commemorates humanitarian workers killed and injured in the course of their work, and we honor all aid and health workers who continue, despite the odds, to provide life-saving support and protection to people most in need." Amid the COVID-19 pandemic, humanitarian assistance and health care have become more intertwined than ever.
COVID-19 has demonstrated clearly how public health issues can trigger large-scale humanitarian crises that jeopardize economies, schools, supply chains, and education, leaving the most vulnerable unable to meet their basic needs.

Throughout much of the world, especially in the Global South and particularly in rural areas, health care depends not on hospitals or even clinics but on community health workers. Mostly women, they typically live in the communities they serve and know them well. They are an exceptional resource for sharing health information, addressing needs for basic primary health care, monitoring conditions, and reporting on trends. They have a wealth of knowledge and a remarkable capacity to help target resources effectively. The pandemic has highlighted the importance of their role because efforts to help communities adopt measures to prevent infection are so heavily influenced by community leaders.

Hazera, right, is one such community health worker going door-to-door in Bangladesh to share lifesaving information and health services. Women in Hazera's community trust her because of the relationship she has built with them.
She told us, "When we go to them and demonstrate proper mask-wearing, they take it seriously. They think that, since this woman has helped me before, I should follow her advice."
Read more: Learn about BRAC's health care program.
Door-to-door: Delivering urgent care where it is needed most
Community health workers have traditionally focused on maternal and child health and common ailments like malaria and diarrhea, and they have been instrumental in major health care achievements around the world.
BRAC community health workers, for instance, played a central role in teaching 14 million mothers in Bangladesh how to make and administer a simple oral rehydration solution made from water, sugar, and salt to reduce childhood deaths from diarrheal dehydration by 90 percent. In highlighting that landmark accomplishment, The New York Times recently wrote: "The Bangladeshi triumph was replicated around the world. The Lancet called it 'potentially the most important medical advance of the 20th century.'"
More recently, BRAC community health workers have raised public awareness of the Ebola epidemic in Africa and the COVID-19 pandemic in Asia and Africa, educating families on their symptoms and how to prevent infection.
Throughout the COVID-19 pandemic, BRAC's network of more than 50,000 community health workers across Asia and Africa have reached 38 million households with lifesaving information. They explain how to avoid infection and how to quarantine or isolate if exposed or infected. They screen patients and refer them for testing. They have also continued to provide routine maternal and child health care, delivering 14,000 babies safely and distributing 4.7 million contraceptives.
Community health workers have reached out to people in their communities by phone or in person, using personal protective equipment and other measures to ensure their own safety and the safety of their communities.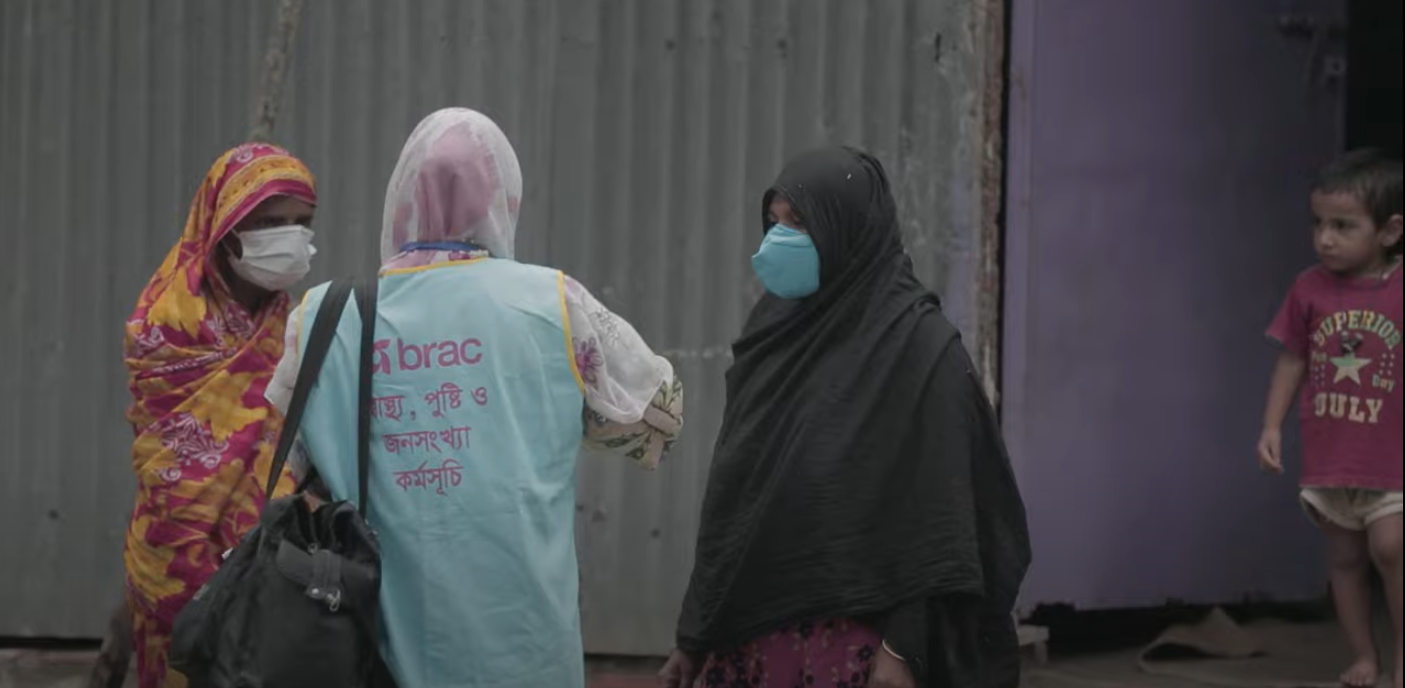 Community health workers go door to door informing community members how to stay healthy.
Saving lives on the frontlines
As COVID-19 vaccines arrive, BRAC's community health workers are supporting efforts to vaccinate their communities by educating families about the vaccines and directing them to vaccination sites. Some have even been trained to administer vaccinations, including more than 700 BRAC community health workers in partnership with the Government of Bangladesh.
Drawing on BRAC's vast network of community health workers in Bangladesh, BRAC has also become the lead organization in a comprehensive multi-partner initiative that will reach 80 million individuals across 35 high-risk districts. The initiative is prioritizing four major areas of work: prevention; masking, including modeling and reinforcing mask-wearing; response, including surveillance, quarantining, and coordination; and vaccination, including communications and debunking myths.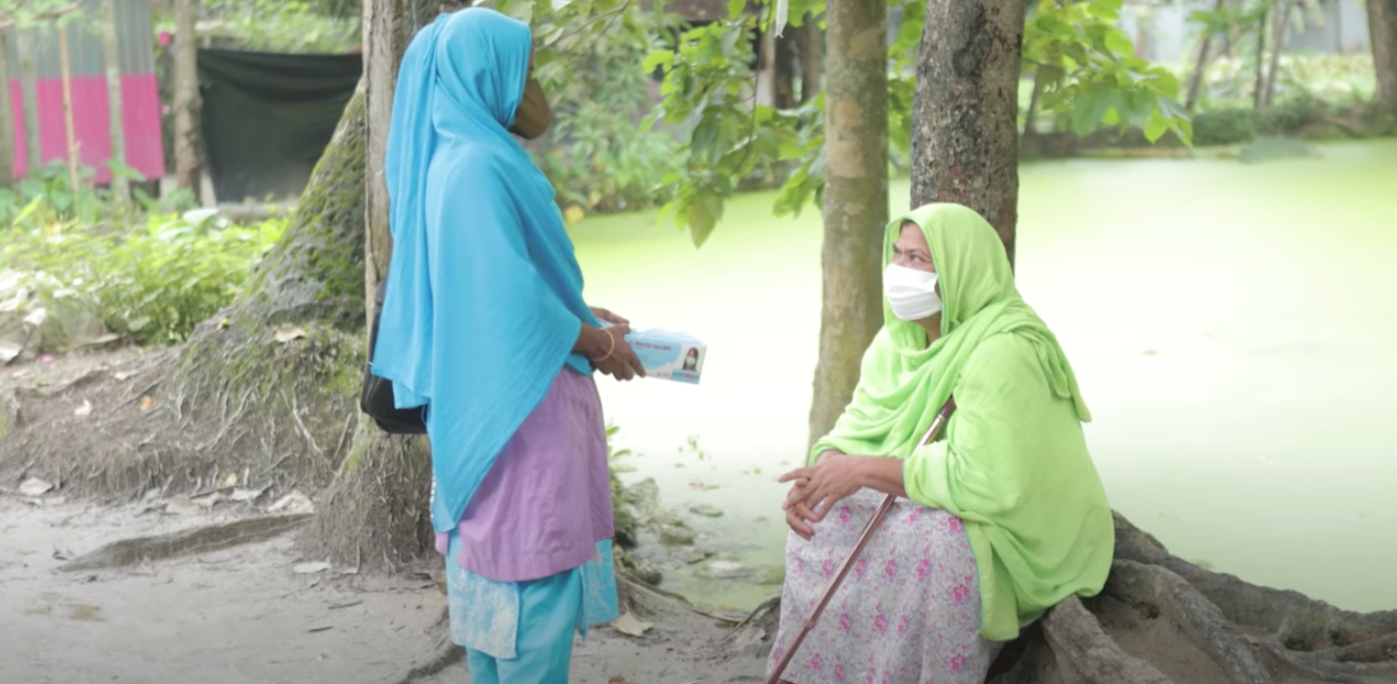 Hazera distributes masks in remote villages near where she lives in Bangladesh.
Reducing vulnerability to growing health threats
As community health workers continue to play a major role in the health of their communities, they are beginning to take on emerging health threats as part of their responsibilities.
For example, community health workers in Bangladesh are now addressing the growing prevalence of chronic non-communicable diseases, such as diabetes and hypertension. Identifying and caring for patients with these conditions is increasingly important given the inherent risks that those with chronic conditions face in connection with COVID-19.
The challenge here again is not just raising awareness, but also screening for the conditions, making referrals to one of three non-communicable disease centers, and monitoring the treatment of confirmed cases.
BRAC has also intensified its focus on mental health support, which has become an urgent need during the COVID-19 pandemic. In Uganda, a partnership with StrongMinds is fighting the stigma around mental health issues and improving access to care through BRAC's network of girls' empowerment clubs. Adolescent girls are screened for depression, and peer mentors are trained to deliver group therapy. Following a successful pilot, BRAC launched a two-year research study alongside the World Bank and George Washington University, which will evaluate the effect of group therapy on girls' psychological well-being, health, education, and livelihoods.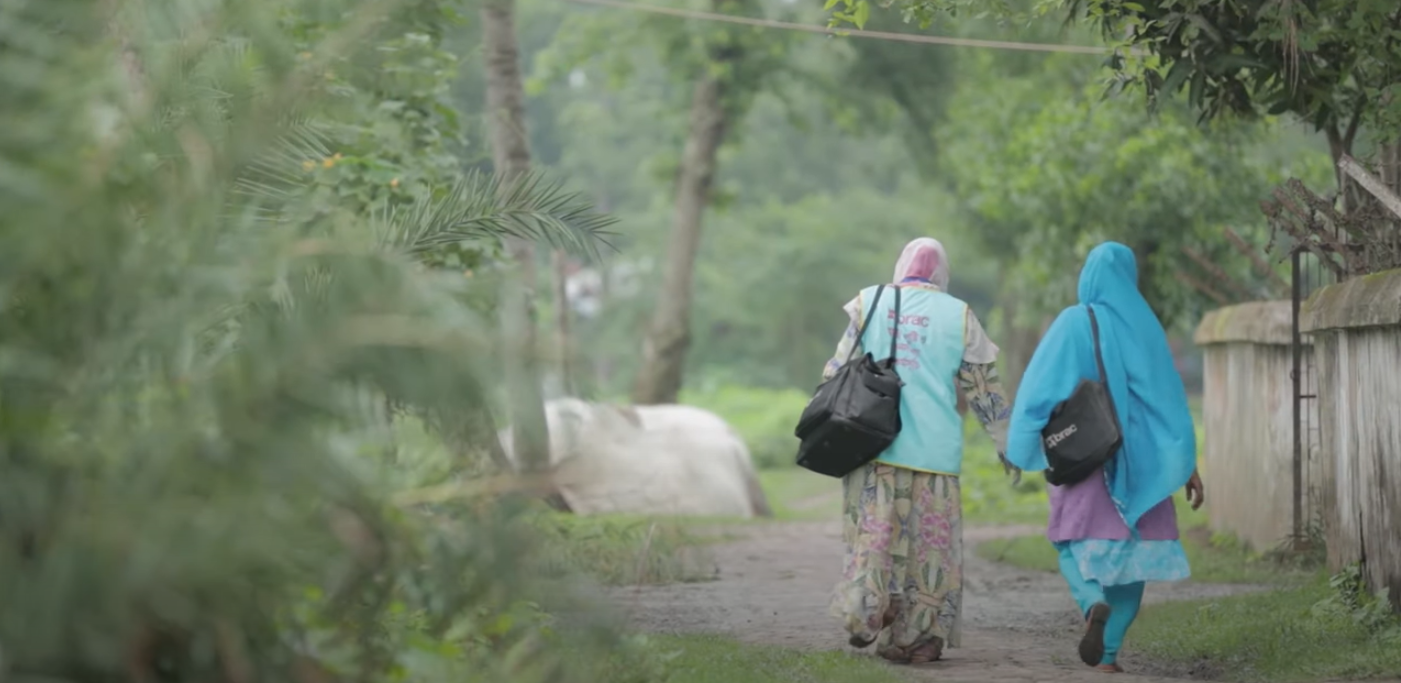 Amid the pandemic, community health workers provide life-saving care to the most vulnerable communities.
Clearly, community health workers have a crucial role to play – one that is evolving to new dimensions.
As Hazera says of efforts to educate the public about preventing the spread of COVID-19, "Even if there has not been a total change in behavior, there is a significant difference. If we are given more time to work on these things, eventually we will see a bigger difference in the future."
Public health is a humanitarian issue, and community health workers are the backbone of front line response efforts. Today, we celebrate community health workers around the world for the vital, lifesaving role that they play – with devotion and at great personal risk – every day of the year.
This World Humanitarian Day, support community health workers and the communities they serve.