August 01, 2022
New biography celebrates the life of BRAC's visionary founder
Hope Over Fate: Fazle Hasan Abed and the Science of Ending Global Poverty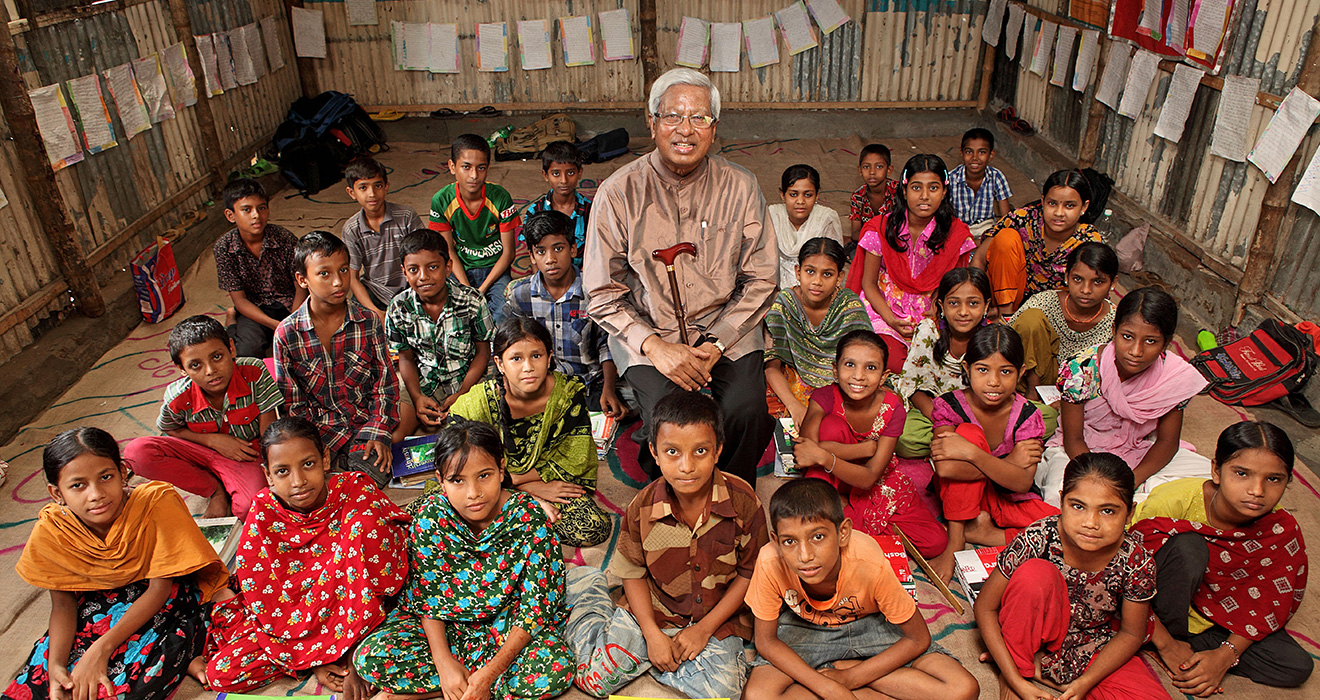 NEW YORK, NY, August 1, 2022― Nicholas Kristof of The New York Times called him "one of the unsung heroes of modern times." Fazle Hasan Abed was a mild-mannered accountant who may be the most influential man most people have never even heard of. As the founder of BRAC, his work had a profound impact on the lives of millions. A former finance executive with almost no experience in relief aid, he founded BRAC, originally the Bangladesh Rehabilitation Assistance Committee, in 1972, aiming to help a few thousand war refugees. A half century later, BRAC is by many measures the largest nongovernmental organization in the world—and by many accounts, the most effective anti-poverty program ever.

In Bangladesh, where it began, Abed's work gave rise to "some of the biggest gains in the basic condition of people's lives ever seen anywhere," according to The Economist. His methods changed the way global policymakers think about poverty. By the time of his death at eighty-three in December 2019, he was revered in international development circles. Yet among the wider public he remained largely unknown. Abed avoided the limelight. He thought his own story was of little consequence compared to the millions of women who rose from poverty with BRAC's help, bending the arc of history through their own tenacity and grit. The challenges he faced often seemed insurmountable. Abed's personal life was a tapestry of love and grief—a lover's suicide, a wife who died in his arms. Many of his ventures failed, but Abed persevered.
Hope Over Fate is also the biography of an idea—the idea that hope itself has the power to overcome poverty. "For too long, people thought poverty was something ordained by a higher power, as immutable as the sun and the moon," Abed wrote in 2018. His life's mission was to put that myth to rest. This is the story of a man who lived a life of complexity, blemishes and all, driven by the conviction that in the dominion of human lives, hope will ultimately triumph over fate.
Scott MacMillan is the Director of Learning and Innovation at BRAC USA, an affiliate organization of BRAC, where he has worked since 2011. A former journalist, he served as the speechwriter of Sir Fazle Hasan Abed prior to Abed's death in 2019. He lives in Connecticut.
>> Learn more and purchase a copy of Hope Over Fate.
Advance praise for Hope Over Fate: Fazle Hasan Abed and the Science of Ending Global Poverty
MacMillan will move readers with this biography of Fazle Hasan Abed and BRAC, the charitable action organization originally known as the Bangladesh Rehabilitation Assistance Committee, which Abed founded. As an accountant with a love of language and the arts, Abed became a revolutionary philanthropist after seeing the devastation in the newly formed Bangladesh. Abed, who died in 2019, assisted hundreds of thousands of people through BRAC, eventually expanding the charity to provide aid to a dozen countries in Africa and Asia. MacMillan, an executive with BRAC USA and former speechwriter for Abed, elegantly weaves the inspiring story of BRAC with the tragedy of Abed's personal struggles, creating a compelling picture of a complicated man. Abed's story is undoubtedly an uplifting one, and the author clearly idolizes his subject, which, combined with his talented writing, offers much hope to be found here. — Booklist
This inspirational account credits Fazle Hasan Abed (1936–2019) and his Bangladesh Rehabilitation Assistance Committee, now called BRAC, with helping to "upend the traditions of misery and poverty in Bangladesh." MacMillan, a director at BRAC USA, traces the organization's roots to 1970, when Abed, then working as the finance executive at Shell Pakistan, witnessed the devastation a cyclone brought to his native Bangladesh (then known as East Pakistan). At the time of its independence in 1971, Bangladesh was the second poorest nation in the world. "One in four children died before their fifth birthday," MacMillan notes, but by 2013, the under-five mortality had fallen to 4%. The turnaround came in large part thanks to BRAC's incentive-based training program, which taught mothers how to mix a home remedy of water, sugar, and salt to treat life-threatening diarrhea. Other BRAC initiatives, based on Abed's business background and conviction that people need to feel "a sense of self-worth," included microloans and the creation of small schools where children and adults were taught by someone from their own village…. This is a detailed study of how change happens. — Publishers Weekly
With all his humility and kindness and belief in the potential of others, Fazle Hasan Abed was also the most visionary, the most entrepreneurial, and the most transformational leader I have met. This beautiful book tells his story—and shows how he changed the world and what we can learn from him. — Wendy Kopp, CEO and co-founder, Teach for America
If you aspire to be a great changemaker or even social entrepreneur, this book is for you. Scott MacMillan brings us a living Fazle Abed, one of the first and absolutely most creative, pattern-changing entrepreneurs for the good of the last hundred years.
— Bill Drayton, founder and CEO, Ashoka
Notes to the editor
About BRAC
BRAC is a global leader in developing and implementing cost-effective, evidence-based programs to empower the most marginalized people in extremely poor, conflict-prone, and post-disaster settings. Founded in Bangladesh in 1972, BRAC now touches the lives of more than 100 million people across 11 countries in Asia and Africa. BRAC takes a holistic approach to alleviating poverty, running programs in education, health care, financial inclusion, youth empowerment, agriculture, and more. In 2021, it was ranked the top NGO in the world by NGO Advisor for the sixth consecutive time.
Media contact
BRAC USA
Sarah Allen, Communications Manager
[email protected]