February 01, 2021
World NTD Day: Deworming out-of-school children is more vital than ever
Amid widespread school closures, it is more important than ever to maintain critical health services for the most vulnerable children.

By Sarah Allen
Parasitic intestinal worms affect more than one in four people globally, but they are disproportionately prevalent in Bangladesh, where they infect one in two children. These infections prevent nutrients from being absorbed into the body, which often leads to impaired cognitive and physical development, anemia, undernutrition, and other illnesses. Children infected by worms are less likely to attend school regularly, and the related health issues diminish their ability to focus and learn.
"I used to fall sick quite often with stomach aches," said Tanisha, an eleven-year-old in Saidpur, Bangladesh. When she was feeling sick, she was unable to attend school.
Intestinal worms are widely prevalent, but they are also exceptionally simple and cost-effective to treat, particularly those that are spread through the soil, known as Soil Transmitted Helminths (STH). For just 50 cents per child per year, deworming pills can have broad and lasting impacts, from keeping kids in school longer to increasing their earnings potential as adults.
Recent research on a deworming program in Kenya found that 20 years after treatment, children with two to three extra years of deworming earned 13 percent more money as adults, spent 14 percent more in consumer spending, and were more likely to work in urban areas and in non-agricultural jobs with higher earnings potential.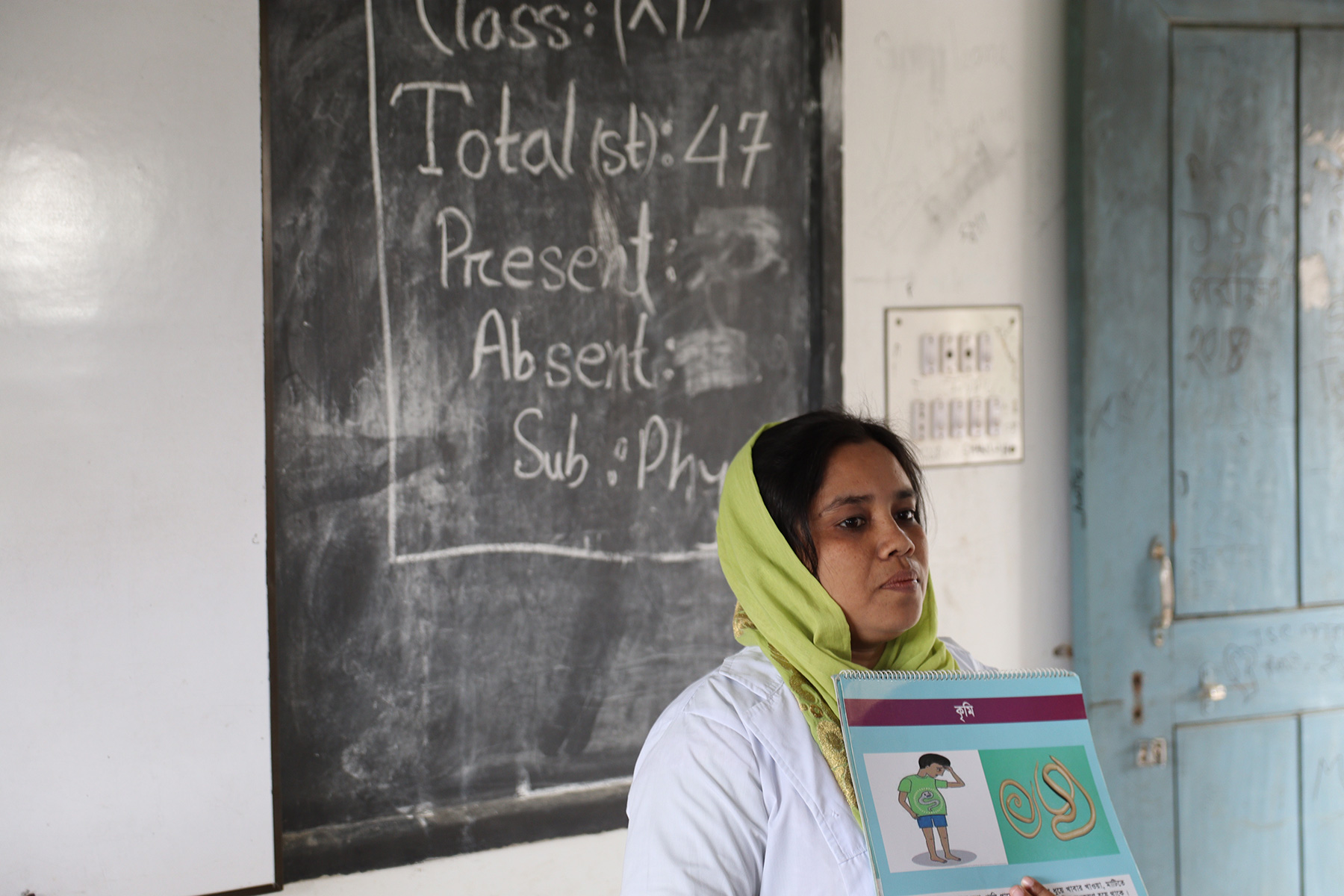 A BRAC staff member raises awareness about deworming. Photo by A.S.M. Maruf Karbir, Viscom Bangladesh. Photo taken prior to the COVID-19 pandemic.
It is clear that deworming has positive, lasting effects on children's health and development. But traditionally, deworming programs have been delivered through schools, a cost-effective and easy way to reach many children at once. But how can we reach the most vulnerable children with this potentially impactful treatment when many of them—especially girls—are frequently absent or not in school at all?
With support from Johnson & Johnson and in partnership with the Government of Bangladesh, BRAC launched a health program in 2017 to reduce STH infections in both in-school and out-of-school children across Syedur, a sub-district in Bangladesh. The program trains community health workers to diagnose and treat intestinal worms, educates teachers and families about how to prevent and detect infections, and works with schools and communities to promote hygiene practices and facilitate deworming. BRAC health workers target children and parents in the community to educate them about the importance of deworming and of sanitation as a method for prevention.
Read more: Learn about BRAC's health care programs.
In addition to assisting schools in biannual mass treatment campaigns, BRAC organizes deworming camps and delivers home-based treatment for worms, with an emphasis on reaching children who work, are affected by child marriage, or for other reasons do not attend school. Because community health workers are trusted members of their communities, they are able to educate families on the importance of deworming, break down stigmas and cultural barriers, and improve uptake of the treatment.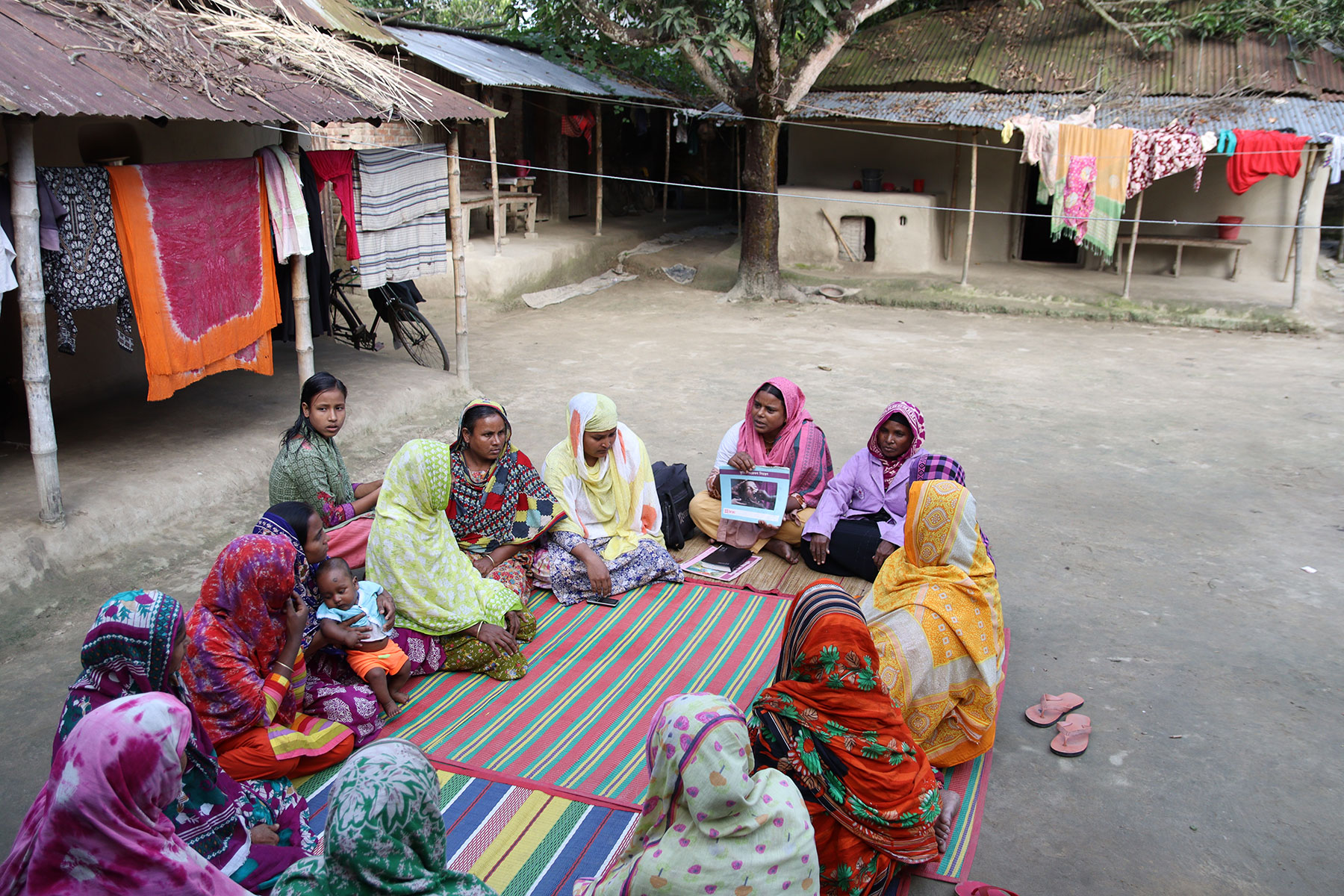 A community health worker educates mothers on preventing and treating intestinal worms. Photo by A.S.M. Maruf Karbir, Viscom Bangladesh. Photo taken prior to the COVID-19 pandemic.
Through the program, BRAC has trained nearly 200 community health workers and over 4,000 school mentors to educate families on deworming. In turn, these providers have educated over 100,000 mothers and caregivers through health forums and reached over 90,000 children with deworming medication through schools and community deworming camps.
Amid COVID-19 and widespread school closures around the globe, maintaining the delivery of essential health care services outside of school settings is more crucial than ever. More than 40 million children have been affected by school closures in Bangladesh, where schools have not reopened since last March, eliminating a critical avenue for deworming and other vital public health interventions.
Read more: Discover how BRAC is responding to COVID-19.
BRAC has developed creative approaches to engage children at home with deworming messages, such as creating comic books with lessons on deworming and hygiene practices and broadcasting animated videos on local television.
While her school was closed and she was learning at home, Tanisha received accessible, creative comic books created by BRAC that helped her easily understand how to prevent intestinal worms.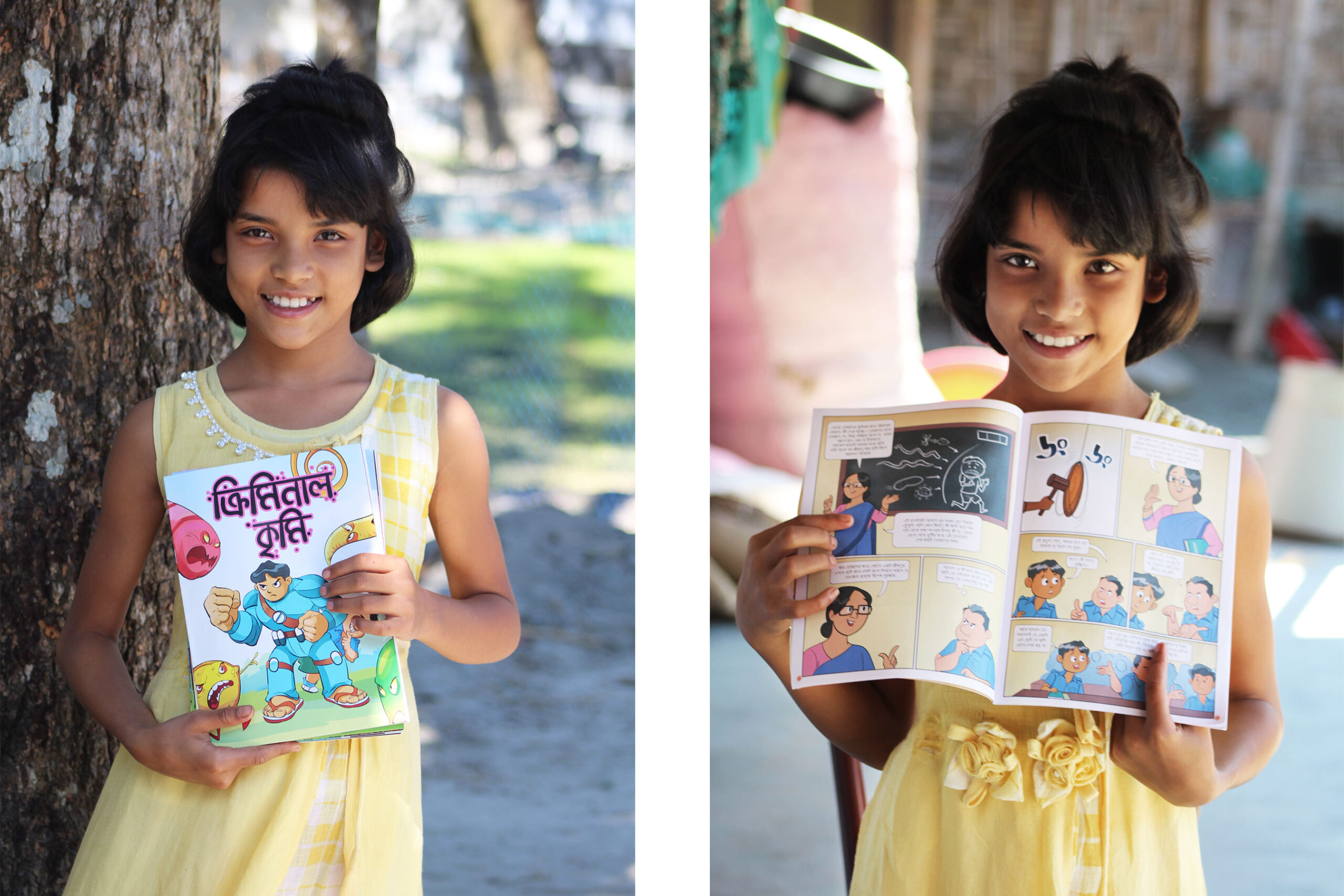 Tanisha shows off her favorite comic book.
"After reading these comic books, I understand that the reason for my stomach aches was not washing my hands properly before eating," she said. "I learned how people can be affected by worms, and how they can be avoided. Now I always wash my hands."
Widespread, extended school closures mean that more children are vulnerable and unable to access health services. To respond to the pandemic and ensure the continuity of care, BRAC has equipped health workers with personal protective equipment and additional training, mobilized tens of thousands of staff and volunteers to educate communities on COVID-19 and how to prevent it, set up testing kiosks, and adopted remote, no-touch, and low-touch health protocols to continue delivering care door-to-door safely and referring families to testing facilities.
Amid the pandemic, reaching the most vulnerable children and families is more critical than ever. Health and poverty are inextricably linked, and healthy families are able to pursue bright, productive futures. Together with Johnson & Johnson, BRAC is ensuring that even the most disadvantaged children have the opportunity to grow, learn, and thrive.
Sarah Allen is Communications Officer at BRAC USA.